The previous episode is here.
I'd suggested to Jennifer that she might want to do a little more, to prove not just to me but to herself that she really was a good girl.
She seemed to accept the principle. But I expected some dramatic and florid ideas were passing through her head, while she tried to stare out my carpet.
"Well, I know a way, Jennifer. You fully earned that spanking you just got."
I paused and gazed at her, so that she knew something was expected. After the briefest of pauses she nodded. "Yes, sir."
"Correct. But you can gain some real credit with me, if you show you're ready to learn discipline properly. I think you have some things to own up to, don't you?"
Jennifer looked beseeching. She wanted to deny it, but I'd already shown too many signs of omniscience. She looked from side to side, then said, in the quietest voice imaginable, "Yes. Sir."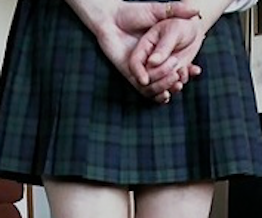 "And, you know, you can take punishments that you haven't earned yet. So that things can be a little easier for you when the time comes?"
She frowned, considering that. It seemed to make sense to her, which, frankly, it didn't to me. Her thinking was being influenced, as it should, by what her pussy wanted. I said, still very seriously, "That could mean additional spankings, or maybe the strap."
She looked at me, her face back to its natural color. Something in her had relaxed. I said, "Do you know what a tawse is?" She looked blank. "No, you wouldn't, I suppose. Anyway, those are options. Think on it."
The bell rang.
"Ah, end of the first period. You're done now. You'd better get going — I know you won't want to be late for another class." I let the smile get through, this time. I mouthed, silently, the word, "Or."
She smiled back at me. The ideas implied by that "or" had pleased her. She stood up then, and I walked her to the door, as if she were a parent. But just before I opened the door that led from Maddie's office to the corridor, and freedom for Jennifer, I touched her back lightly.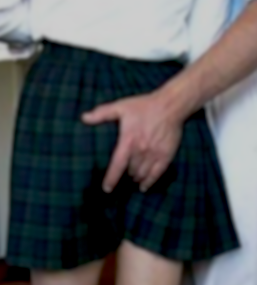 She stopped, perhaps wondering if I would drop my hand to comfort her hurt. Instead I whispered into her ear. "Do think about earning that extra credit, Jennifer. It will be good for you."
She flushed again. "Yes, sir." And so I lowered my hand and cupped her left buttock. It was a caress, and she leaned into my hand, liking the contact while not wanting to admit it was happening.I let my hand drift over to hold her right buttock. She was perfectly still, not even breathing. 
After a few soft, sweet seconds I made it a smack. Affectionate, but more like a headmaster's punishing hand. I smiled at her, and she tilted her head up at me. The idea that we should kiss hung in the air.
Then I opened the door, and patted her bottom one last time. "Hurry to class, now, girl."
She walked out into the corridor, not looking back.
The photo-copier started again. Maddie had been listening. I frowned. She and I would have words about that. I shut her office door and, after a second's consideration, locked it. Then I walked over to the photocopy room.
The next episode is here.