I'd slid easily into Megan, standing behind her, while she was still bent over the bench. I occasionally struck her flanks, the side of her buttocks and her upper thighs, while I rode her ass. I still held the belt, firmly in my hand. Whipping her was my duty, and my pleasure, and mine.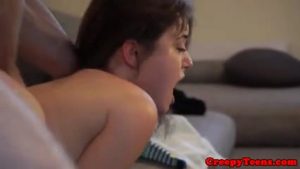 When Megan submitted, she gave me continuous guidance about what she wanted.
For example, I knew that she could come within seconds if I told her to, but that otherwise she'd wait until I gave her permission.
I knew that I should delay that permission, because she didn't want to be allowed release till she'd begged and reached an agony of tension.
She hadn't said a word of that to me,  and I don't how she'd let me know these fine and intricate things. But she had told me, somehow.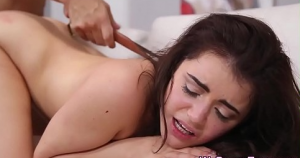 We fucked, still slowly, knowing we could stay slow for much longer, and I strapped her right side six times with my belt. In answer Magan made a harsh, sex noise: "Harrgh, harr, harrrgh…" Because my cock was no longer obstructing her mouth. 
I smiled, for simple happiness, and then applied the belt, just as hard on the left side, while she pushed back at me, possessing and riding my cock, and sang that low, harsh pleasure song again. Only then could I speed up. And though she wanted me to, she wouldn't until I'd set the new pace. 
It had been a long time since I'd engaged with these complexities, and I loved returning to them. The intuitive link between dominants and submissives, the way we know each other, was where a part of me was most alive. The same would be true of her. We made happiness, if not love.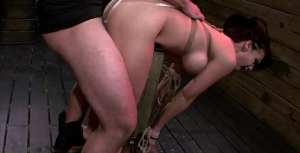 Megan lifted her legs off the ground, to hold me while I fucked her, and pressed her feet just below my buttocks, moving together with me, her temporary master, her cock and pain-giver. She sighed, and tightened the pressure on my buttocks. 
She said things ("fuck me fuck me sir please come in me", and so on) that I won't quote too closely here because they'd seem silly, while in that context they didn't seem silly at all. She wanted my come, even in a condom; it meant so much. 
I smiled at her, since she couldn't see me. Megan liked to beg. I said, as if grudgingly, "That's better."
And it was. Our carefully passionate meetings weren't everything I wanted. We kept a certain kind of emotional distance because of the ban on falling in love, and that never quite felt right to me. But having this in my life was better. It truly was.