It's not just that hitting a child or young person's buttocks pumps blood to their genitals. That's a powerful sexual signal, and we'll come to that in the next couple of posts. But there are also things about the setting of schools, especially "strict" or authoritarian schools, that make it easy for children or young people to sexualise things that happen to them in that setting. 
For many children in the English-speaking world, school is their first experience of an organization that runs on dominant and submissive hierarchies. It's also their first experience of a relationship with a dominant figure who is not a parent or older sibling, but an unrelated adult who may be quite young and attractive.
Authoritarian schools place children in a setting not too different from a classic bdsm scenario. (You could also say that some bdsm scenarios draw heavily on the authoritarian school experience, but in fact it doesn't make much difference.)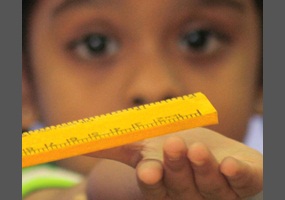 Dressed in uniform or according to a dress code intended to stress their non-adult and subordinate status, they must obey orders, restrict their body movements, address the teacher respectfully, and present themselves submissively for verbal humiliation.
They must also remain in detention rooms (a harbinger, in its way, of the bondage experience), and in some schools, for example in the southern and mid-West United States and in Saudi Arabia, present their hands or buttocks to be beaten by a teacher or other official.
So the issue isn't just of the flow of body fluids. It's also a matter of the flow of the ritual of child-beating, and the way the institution itself affects people's behaviour, and their interpretation of what they do and what others do to them.
Leaving aside the evidence connecting corporal punishment with later violent offending, it's not good for adults to hit children in a ritualized setting, with deliberation, using an object specifically designed and manufactured to hurt children, with the adult using their institutional power to force the child to cooperate in their own beating.
I mean, how could that possibly have anything to do with bdsm?