Dorabella was in the kitchen, sitting at the table in a Hello Kitty t-shirt and her pink gown, flashing her very fine legs and eating cereal. I said, "Hi, Dorabella. You seen Raylene?"
"Oh, course." She waved a milky spoon at me, to demonstrate how visible Raylene was. I frowned.
"Well, is she OK? I mean, about this morning? Getting the cane? Where the hell is she?"
Dorabella had been Dorabella, her full name, when we'd slept together. Bellie was Raylene's name for her sister. I preferred, at this moment, the name we'd fucked under. Dorabella pointed down the corridor at the room Lynette had slept in last night.
"They're in Lynette's room. She's talking Lynette down. When she invited Lynette to come up and watch her get caned – watch you cane a woman – Lynette didn't take it all that well." 
"I thought you were going to talk to her. Lynette. To calm her down." 
"Jaime, I did. She was sort of okay with it. She could see that you're giving Raylene what she wants. So I'd got her down to dubious." She pulled a face, illustrating dubious.
"So how come she's in a panic now?"
"I think it was that Raylene was so cheerful about it. She can be a bit much in the morning. She'd cut two canes. Guess that's your idea. And making her wear fuck-all while she got them from the church. That's your style too."
I shrugged. Anyone in a position to tell Raylene what to do, and get obeyed, would make her to wear as little as possible. The same was true of Dorabella, but I wasn't in a position to tell her anything. Probably.  That was starting to feel like a shame.
"And Raylene whacked a pillow with the thick one. Cane, I mean. It was quite graphic."
"Oh. I see." Raylene hadn't liked Lynette for coming up the stairs without permission, and then disapproving of her. She was waging a small war against Lynette's peace of mind. 
"Lynette freaked and ran into her room. Raylene followed her. Well." 
I smiled. For some reason that made me proud of Raylene. But I said, "Are you coming up?"
"Of course. When are you starting?"
"Well, pretty soon after I've fetched Raylene and sent her up the stairs. And followed her. Give me ten minutes from then. Snogging time, mostly."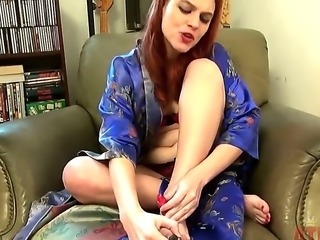 Dorabella nodded. She stretched out one leg. The t-shirt stopped at her lower belly. She meant to show me her legs; I wasn't sure if she'd meant to flash her cunt as well.
But then she inspected her foot, and I decided the cunt exposure was deliberate. "Are you going to be hard on her?"
I was going to answer, reassuringly and truthfully, that of course I wasn't; I'd make it hard enough to impress and mark her, but for most of the strokes that wouldn't have to be hard at all on a first time. But I remembered this was theatre, and Dorabella was part of the audience too. "Yes. Very. It's her first lesson. It has to be hard."
Bellie smiled a private, inward smile and nodded. That was a satisfactory answer. Was it why she was flashing her cunt at me? A nice soft spanner, to adjust my attitude? "It's what she wants."
I knew there was something going on, that Dorabella had her own reasons for wanting Raylene to feel her caning. I had no idea, and filed it under "sisters". Instead, because the display of long, sleek leg and the sweet, pink folds of her smooth-shaven cunt was having its effect on my brain, I said, "Dorabella."
"Nnh?"
"You're not wearing that t-shirt while you watch Raylene."
Dorabella tilted her head, amused. "It's too cheerful?"
"Any t-shirt. Raylene's going to be naked. After the first six." I shook my head as if I there was some good, fairness-based reason for what I was saying. "You can just wear the robe."
Dorabella looked at me. Of course I'd be hoping the robe spent some of the time falling open. She knew that. But I'd expressed it as if there were some greater issue there. Something about fairness, apparently.
She did know that it was a test. It was getting obvious that Dorabella and I were going to fuck soon. Not today, because I'd be looking after Raylene, but soon. Going by what Raylene had said last night, it would probably be with Raylene, in a crowded, sisterly bed. Still, today we weren't going to fuck, but it'd tell both of us a lot if Dorabella decided to obey my clothing suggestion.
Dorabella gazed thoughtfully down at her cunt, which made two of us. And didn't pull the robe closed. "OK," she said.
I stopped myself from saying, "Good girl." Instead I said, "Thank you. It's right." And I walked down the corridor to Lynette's room. With a song in my heart.