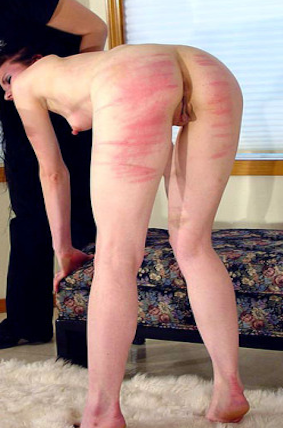 Raylene looked at the bed. While her freshly-thrashed arse burned, she didn't want anything to touch her bottom, not even the air. So a simple order like, "Bed," presented her with challenges she didn't know what to do with.
I kissed her. "I said 'bed', Raylene darling. Yes, you've had your ass caned. Looks nice and sore, too. Now you're going to get your ass into bed."
She grimaced. "If you don't mind, Master, I think I'd prefer to stand for the next couple of years."
I held her to me, her head pressed loving and trusting against my chest.
And I reached down and gave her ass an open-palmed spank, as hard as I could. Raylene cried out in pain and some indignation. If I wasn't going to feel sorry for her under those circumstances, then … when?
"Darling, you've got a Master. What does that make you?"
"A slave, a slavegirl of some sort?"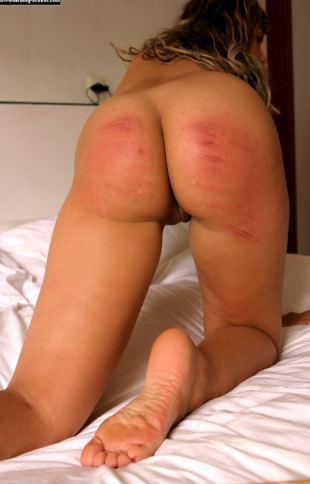 "Yes. We won't say so too often, but yes, that's exactly what it makes you." I wasn't sure that was true. But in the moment, sometimes I just say what I think will be hot.
"You're property. I own you. I mentioned I'm falling in love with you, and I'll look after you. But you don't choose what you do, not anymore. Not once I've told you what to do." 
Raylene said nothing. She put her arms around me and let her breasts weigh on my chest. She clung to me like a jasmine. 
"So you're worried that the sheets are going to hurt your poor little ass, right?"
She looked at me, big-eyed. "Well, I can't think of any way of being in bed where the sheets won't hurt me. Even if I lie flat on my tummy."
"Ok. Now, guess something. Does it matter, even a tiny bit, if the bed hurts your ass?"
"Oh." That was a new thought. "I suppose it doesn't."
"That's right. You just got a hard lesson in behaviour. It'll go on hurting a lot for an hour or two, I expect. But it's over. And I don't care that your ass still hurts. Understand that. You having a sore backside: it'll happen to you whenever I see fit, and it does not matter if it hurts. Your pain does not matter. Not during. Not afterwards."
Raylene had listened to this open-mouthed. She didn't disagree. These were just things that hadn't occurred to her before. "Oh. Ok."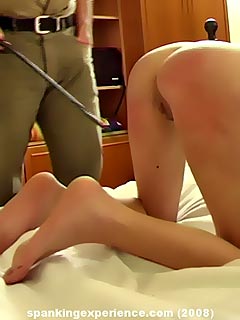 "So, get onto the bed. I'd going to fuck you. I need to fuck you. I think you need to be fucked. As if what you need matters."
She looked solemn. Then nodded. "No, of course that wouldn't matter."
I kissed her. I suppose I don't cane for irony. "Get up on the bed. Hands and knees. Get your ass up, and keep it up."
"Yes, master." And she scrambled up onto the bed, pulling the top sheet and blankets aside, and posing like a cat needing fucking.
A cat with the yummiest, reddest, striped ass in the universe. She looked so beautiful.
"Good girl. I'm going to fuck you, pressed against that nice hot ass. I'm going to enjoy your heat. And I'm going to hurt you while I fuck you. What do you know about that?"
Raylene arched her back, presenting herself as spectacularly as she could. "I know now that it doesn't matter if it hurts, Master."
"Good girl. I knew you're a clever girl." And I took my clothes off and climbed up onto the bed with her, wanting her more desperately than I was going to tell her, and put my hands on her hips.