Yvain, kneeling with her Seigneur's cock deep in her mouth, had been surprised by how easy this was. The cock went deep in her throat when she took all of him, her nose and lips in his dark pubic hair, but she'd found that by thinking of relaxing things, and self-discipline she could stop the gag reflex. 
She remember her Seigneur saying that Gisela had had to be caned often before she learned to control that, and she felt briefly smug.  This was not so unpleasant, and she was, obviously good at it. Better than the Mayor's wife.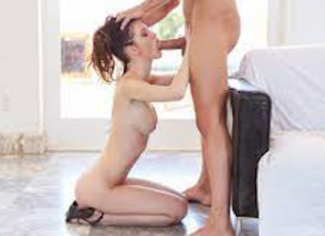 Then the Seigneur, who'd been keeping perfectly still while she pleasured him, sighed with pleasure. The hand that held her hair opened, to press the back of her skull.
He pushed her firmly forward while, for the first time, his cock moved in her mouth, questing deeper.
She felt a moment's panic as the head of his cock, well engorged, seeming huge in her mouth, slid into her throat. She wasn't ready for this, and it was much harder. She managed to suppress the urge to cough, to try to get that obstruction out of her throat. But the effort cost her tears.
Now he was fucking her mouth and throat, the firm press of his hand allowing her no lee-way. She managed to take him, her eyes wild with fear that she might fail him and deserve more punishment, tears streaming with the effort of control. At last the movement of the cock in her mouth slowed, then stopped. 
The Seigneur said, "You're doing well, Yvain. And I know you're trying your best."
Yvain tried to speak, his cock like an iron bar in her mouth. "'An you, 'y Seigneur."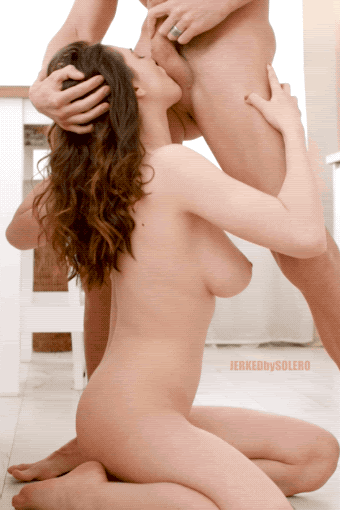 He slid out of her, so she could kiss him, that hard, soft, sensitive skin, then take him in again.
"This next part is going to be harder for you, Yvain. I'm going to fuck your mouth hard and fast. And when I come – you know that I will release a sort of fluid into your mouth, don't you?" 
"'es, 'y Seigneur."
"You will swallow it all, and then you will clean my cock with your mouth. If you miss a drop you will be flogged. As you'd expect. Stand up, girl." 
Yvain kissed the Seigneur's cock, then again as she, more than he, withdrew until it was free in the air. Then she stood. "Seigneur?"
"The beldam is in the room next to this. Go to her, and tell her you are a passable cock-sucker, but that you will need discipline for the next stage. Ask her, most politely, to bring her heaviest cane." 
"My Seigneur, I think I can – "
He reached forward and slapped her face. The blow did not hurt. But it's meaning did. She had overstepped herself and displeased him. "I have not given you permission to argue with me, little slut. I don't think I ever will. Ask the beldam to begin by giving you six of the best, immediately, for insolence."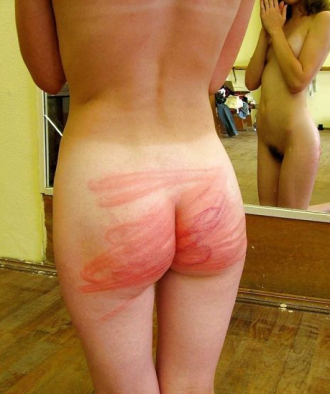 Yvain felt stricken. How had she been so foolish? She said, "I'm sorry, my – "
"Twelve of the best. And you are to tell her you will take them in complete silence, no matter how hard she canes you. Go, Yvain." 
 Yvain nodded, and made a gesture that would have been a curtsy if she'd been wearing a stick of clothing. She glimpsed herself in a mirror as she she turned and opened the door into the corridor. She was becoming a new person. A sorer and a happier girl.
A guard, outside, smiled when he saw her, but said nothing. She went and tapped nervously at the beldam's door. Then she took a breath, fortifying herself, and knocked louder.