Dorabella was still filming, and for no good reason except to bring her back from recording to participation, I whacked her arse, not hard, and pulled her into an embrace.
She put the phone down beside Raylene's hip, and took the thicker cane from between her thighs to hold on to it while she clung to me. She kissed me, affectionately rather than passionately.
"I bet you never expected this was how this would go."
"Are you … Do you mind?"
"No. You're a good skin." I'm still not sure what a 'good skin' is, except that it must be good. And skinny. "You're allowed to be happy. And … you're enjoying yourself. What you're doing. And how you're doing it. It's fun to watch you."
"Hmmm. Well, don't get too damn analytical. I'm still expecting you in Raylene's bed tomorrow. Or yours."
"Um. Yes, well. You're still booked for a fuck. On my dance card. Or something. But we'll have to talk about it." 
I wasn't sure what that meant. But at least it seemed that I hadn't blown it completely. So I said, "Ok. We'll talk. But just now…"
I glanced at the cane in my hand, and at her sister. 
Dorabella gave me the eyebrows ironical again. "No, you're a busy man. Go for it." 
"Filming, Dorabella." That was an order, a hint of command voice.
When Dorabella smiles, there are dimples. "Yes, sir." She still meant it ironically. But she put the spare cane back between her thighs, and picked up the phone.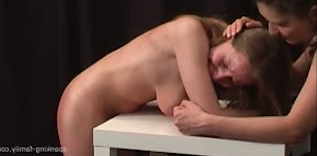 I gave her a few seconds, then said, "Lynette, you'll have to lean back now."   
Lynette looked at me almost guiltily, then took her hand away from Raylene's shoulders. She leaned away quickly, dropping both hands to her lap. What the hell was going on with her?
So I said, "Thanks." Then, because sometimes I just push my luck, I added, "Good girl." 
Lynette frowned. She seemed to be puzzled too. I said, "Eyes on Lynette, Raylene. And after this stroke you'll take your t-shirt off and get up to face her. You've got an apology to make."