Yua and Asuka turned to face each other. It was Asuka who put her arms round Yua, surprising Seamus, who'd expected Yua to be first to take advantage of their intimate position.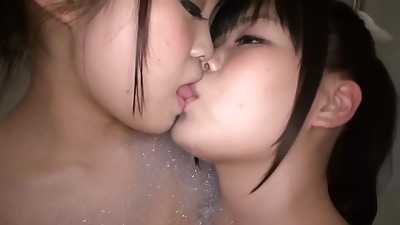 He said, "Yua, put your thigh between Asuka's; Asuka, let her. Good girls." After a little graceful shuffling, the girls were pressed close, pussy to pussy, breasts pressing, holding each other tight.
Yua kissed her friend.  
Seamus waited for the first press of pussy against pussy, the first swing of hips. Asuka's bottom arched back, in response to Yua's slow thrust. Seamus swung the cane and stung his girl, just a little. When Asuka moved back at her friend, impelled a little by the new sting in her rear, and Yua retreated, he caned Yua, again lightly.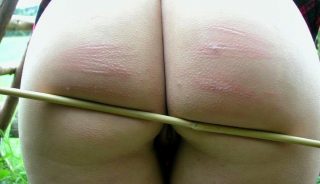 The girls fucked, standing, eyes wide, mouths open and exploring, with Seamus's cane helping to choreograph and set the timing for them. They were beautiful together, and Seamus kept the pressure on till their bottoms were well, though lightly and pinkly, striped. 
Eventually, as he knew had to happen, Asuka lost concentration, at least concentration on matters like standing up, and she sank to her knees. Yua followed her down, pushing Asuka onto her back on the atami living room floor.
Yua knelt between Asuka's thighs, her hands under Asuka's buttocks, licking her intently while Asuka shook her head desperately, and muttered soft, high-pitched nonsense syllables.
Seamus gave Yua two harder strokes across her bottom, for reasons he could not have explained, but it helped increase Yua's dedication to her task. Until Seamus knelt behind her, and entered her sweetly wet pussy. Yua raised her head for a second to squeal happily, and then returned to her task.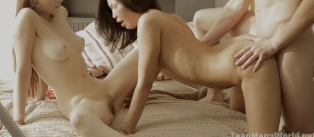 His hands gripping Yua's hips with all his force, so he controlled her movements, he fucked the girl, slowly, savouring each movement. Seamus watched Asuka's face as Yua industriously pleasured her.
He'd hoped to have eye contact with his love while he fucked her friend, but Asuka's eyes were shut tight and she was lost, breathing in hard through her nose and mumbling sweetly with her out-breaths. Eventually Asuka reached up and put her hands on Yua's shoulders, then reached under to hold her breasts. Yua yelped, happy, and Asuka squeezed, trying – not very successfully – to be cruel.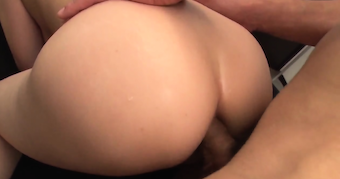 But even the effort hit Yua, and in response she she thrust back at Seamus, needing all of his cock in her. Suddenly their fuck became hard and intense, and he had to hold Yua tight to keep her from bucking him out of her.
He smacked her with his hand and she growled, nose still deep pressed in Asuka's cunt. Seamus wanted to slow down, prolong this, but Asuka suddenly opened her eyes and cried out. He hadn't expected her to be the first to come, or to come so fast. She looked up and saw Seamus then, his face over Yua's back, and smiled at him, still coming. 
Seamus didn't smile. He was too focussed. Yua said, "Fuck. Fuck. Fuck. Sensei!" He felt the flutter of her cunt contracting and releasing on his cock, and he pumped her in earnest, without holding back. They came more or less together, or at least in overlapping waves. "Oh, fuck me. Fuck me," Yua said, though it seemed to him that it was a little late to suggest that. She slowly fell forward till she lay on her stomach, face on Asuka's midriff, Seamus still hard in her.
Asuka smiled up at both of them, obviously still a little dazed. She put one hand on Yua's mouth, and the other on Seamus's. He saw Yua bite his girl. He kissed the hand at his mouth.