Maddie had just told Claire that she was bending over because we wanted to watch her breasts sway while Maddie spanked her. So I said, "This is true."
Claire glanced at me, pleased. One kind of tension had broken, to be replaced with a softer, erotic one. In that tension she was being punished, not by me, but by the woman who called me Master. She hadn't expected that. It was humiliating, and it was hot. These things were complicated.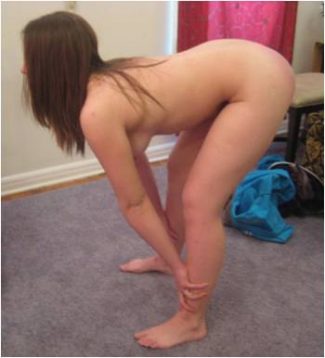 Maddie touched Claire's mouth lightly with the ruler. "Grab your ankles, Claire."
"Do I say, 'Yes, miss'?" Claire adjusted her position. Feet slightly further apart, the muscles in her legs tightening as she reached for and held her ankles.
"No, Claire. Maddie's head is quite big enough as it is." Maddie poked her tongue out at me.
I ignored it for the moment. "Just call her Maddie, even when she punishes you."
Maddie raised the ruler again, and swung it down on poor Claire's bottom. It was a much lustier, noisier smack than the first. The mark bloomed almost immediately on Claire's soft skin, a bright red while the first line across her bottom was pink. Claire said, "Oow!" and stumbled forward. Then she remembered herself, stepped back and bent over tightly, hands back holding her ankles.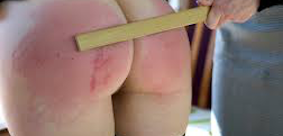 The invitation was too much for Maddie, who raised the ruler again. The third stroke was, of course, harder still, and made Claire toss her head while she fought to stay down and in position. She gasped.  About a third of Claire's bottom was now a very pretty pinkish red.
Maddie said, "That's so lovely, Claire. You colour so very beautifully. Master's going to love caning you."
She raised the ruler again.
"That'll do, Maddie. You'll have to wait till she cheeks you again, if you want to give her more."
Maddie put her hand on Claire's bottom, and ran her fingers over the three marks she'd left. Then she squeezed lightly. "You're very beautiful, Claire. And your body is just … yummy. It's a crime that you haven't been fucked in a year. Absolute madness."
I could see that Claire was a little embarrassed, or perhaps flustered, by Maddie's enthusiasm. I said, "You can straighten up now, Claire. You're a good girl. But no more cheeking the staff." Maddie, behind Claire, poked her tongue out again.