The previous episode is here.
Note: 
This was intended to follow the prompt, Recollection. Unfortunately, the story grew before the recollection part came up. So I'll have to use this week's prompt next week. Or, knowing me, it might be the week after. I'm slow. Sorry!
Jennifer's pleats and pleas: Maddie trembles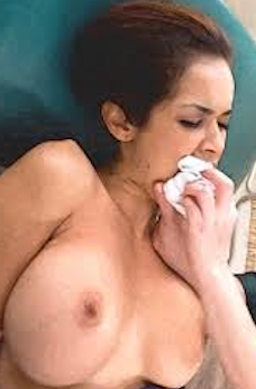 Maddie returned, sinuous on all fours, with her panties in her teeth. She stopped at my feet, so the cane was beside her again. She straightened her back, remaining on her knees, and said, "'Ay 'anties, sir."
I took them from her mouth, without speaking. Or smiling. She wanted the tension broken, and at the same time she'd have been horrified if it were. So I said, "You pick up that cane, and hold it out in front of you. Palms up. You're not to grip it."
"Yes, sir." She took the cane and held it as I'd instructed, offering it, and of course herself, for me.
She knew I'd come back from my encounter with Jennifer highly aroused, and that I was going to take her far, as well as hard. We were going to be dramatic. 
I crossed over to the neatly stacked shelves. "Tidy means 'clean', girl. Do you think these shelves are clean?"
"Sir, please, I did my best." It wasn't like Maddie to beg. But she knew she'd lost any chance of influencing what was going to happen to her, and she was a little unnerved.
I rubbed her panties, white and lacey, on the upper surface of the top shelf. She watched me, like a trapped bird watching a cat. I said, without looking at the panties, "Because if that shelf is not absolutely clean, I should take that as an insult, shouldn't I?"
She froze, stricken. There was no safe answer to that. Eventually she said, "I'd never want to insult you, sir."
I held her panties in front of her eyes. There was, fortunately, a reasonable collection of dust there. "Don't even try, girl, to say you think that's acceptable."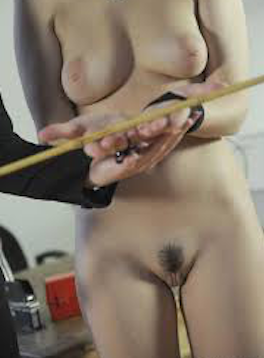 "No sir. Oh, sir, I'm so sorry!" Somewhere, she knew this was theatre, designed to ramp up her reactions, and to express my needs. But that part of her that knew that was no longer in control.For now she knew only that the man she'd surrendered to was going to punish her, and that events were happening too fast for her to even think about how to influence what happened. Her palms, holding out the cane, were trembling. 
I said, "Stand up." This was hard, with her hands still stretched out in front of her, but she managed.
I took the cane from her at last, and said, "Now turn around. Bend over and touch your toes."
"Yes, sir. Do I count the strokes aloud?"
"Count and thank."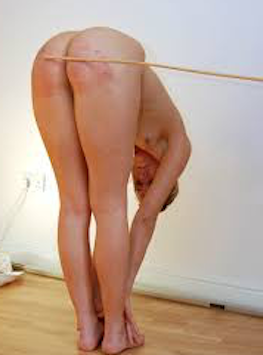 I caned her hard, poor girl, letting the stripes form from the crown of her bottom to about three inches down her thighs. And I took my time, letting her feel each one, while I watched her tremble and fight for control.
She stayed down throughout, keeping her fingers in contact with her toes. When the count got to "13, thank you, sir", I paused.
The was a tremor in Maddie's voice, and I liked hearing it. I'd intended to give her more strokes, but her well striped ass and trembling thighs called me, urgently.
I put the cane in her mouth, unzipped, letting my pants fall to the floor, and took condom and lube from my coat pocket.
The next episode is here.