The previous episode is here.
Maddie waited naked, her hastily discarded dress on the floor beside her, facing my door, on her knees. She'd heard the scene with Jennifer, and she well knew the mood I'd be in. I put the cane on the floor beside her. She knew that wasn't because I wouldn't be needing it, but so she could pass it to me when it was time.
I saw that she'd tidied the storeroom beyond any reasonable complaint. There were neat piles of papers, clearly labelled, tidied rows of books, and the boxes made neat stacks on the upper shelves.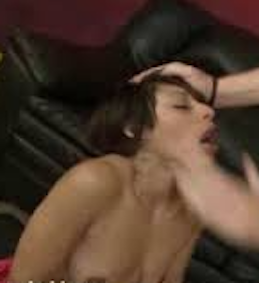 When I looked back at Maddie she'd opened her mouth and put her tongue forward, covering her lower teeth and pushing out her lip. The invitation was almost irresistible. She wanted, as she always did, to direct what happened. I stepped forward and slapped her face with my left hand. Her head jolted the the right, then to the left when I repeated the slap, backhanded. 
They didn't need to be hard slaps, and they weren't. Their psychological effect on Maddie was what counted. They dropped her, instantly, into submission and a world in which she had no influence on what happened. It was only necessary for her to serve. I grabbed her hair then, unzipped and thrust hard into her mouth, filling her before she had time to gasp for breath. 
She sucked me, running her tongue under my cock, keeping her eyes on mine, as she'd been told. I savoured her warm, wet harbour, and counted to ten. That was as long as she usually took to start worrying about choking. Her eyes showed worry at twelve seconds. I counted slowly to fifteen. 
It wasn't that she couldn't hold her breathe; she could manage over a minute. It was that this was the ultimate loss of control for Maddie, and she feared it and desired it at the same time. At eighteen I pulled her, fast, off my cock, and she gasped for air.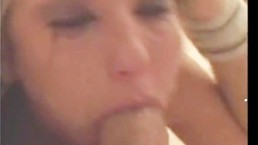 The tears ran down her cheeks, making runnels in her mascara while she fought for air, my cock poised in her mouth for the next thrust.
Then there was no more air, only cock.I pushed against the back of her throat.
Maddie stiffened and fought for control. Eventually she relaxed, and put her hands on my shins, not for support but for affection, while nearly twenty seconds passed. So I withdrew a little, and allowed her the comfort of having her mouth rather than her throat fucked. She sucked and tongued diligently.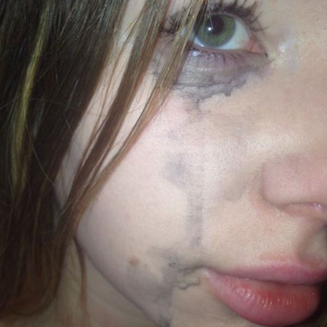 I watched her eyes while hers watched mine. She was happy. And she expected me to come soon. 
Reluctantly, and with seconds to spare, I withdrew from her mouth. I wanted to tell her she was a good girl and had pleased me, and she plainly needed that.
But it would break the mood. I said, "You think this is tidy, Maddie?"
She frowned. "Well, yes, Sir. I thought so." 
"Well, we'll see. Your panties are in your desk, I assume?" She'd shed them when I'd had her this morning. She knew I'd disapprove, painfully, if she'd put them back on.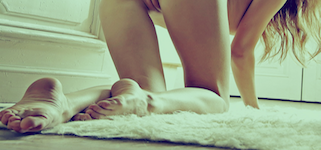 She nodded. "Yes, Sir." 
"Fetch." 
Maddie put her hands on the floor, and crawled to her office.
She knew better than to stand up.
The next episode is here.