"What do you mean, 'feel better'? Sir?"
I put my hand on her cotton-cocooned right buttock and squeezed, to remind her that there was nothing to stop her from getting her morning spanking all over again. Jennifer shivered, her soft skin and firm muscles trembling under my hand. She understood that I was threatening to repeat her spanking. But she liked my hand.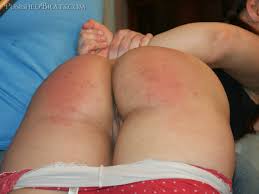 "Some people get spanked regularly and often, Jennifer-" She made a wordless noise, not of protest but of recognition. Jennifer had learned that that was the kind of girl she was. "That's the world you're in now. Now, girls like you often need aftercare. And if they're been good after their spanking they should get what they need. Does that sound sensible, Jennifer?"
There was a pause. She was looking for the trap. But it was hiding in plain sight. Eventually she said, "No, that does sound reasonable, sir."
"Now, Jennifer. You've got a sore bottom, but you've been a good girl all day, I'm told. So you can have something that can take the pain away."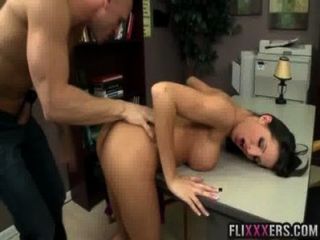 "Sir?" She sounded shocked. Her imagination was, of course, running wild. She was seconds away either from protesting or making some declaration of consent or need. The latter was more likely but I didn't want her to do that today. She needed more time, to build up a deep and desperate need before I'd let her consent.
"It's a natural oil mixture, with aloe vera, lavender, arnica and cocoanut oil for vitamin E. It cools the spanked area and takes away most of the pain, and sets about healing the skin. To let you sleep easy, and, well, let you sit down again without it being awkward. It's for girls who get into trouble a lot but they're good girls really. Would you like that?"
There was a longer pause. Jennifer knew she wouldn't be applying the mixture herself. That left strong, male hands kneading her flesh, healing the skin I'd hurt earlier that day.
I suspected that would appeal in its own right, and anyway it'd be better than going home with a sore bottom.
Finally and bravely Jennifer said, "Yes, I'd like that. You mean like a massage. I like those."
I collected the tube of oils from the corner of my desk, where it lived with the pens pencils and felt tips and paperclips. I put a dab on the lowest vertebrae in the small of her back. A subdued, noctural animal sound from Jennifer. She was so needy, so aroused.
I put my fingers in the upper hem of her panties, and pulled them, not down, but away from her skin, revealing a perfect bottom, unlikely to be quite as sore as she'd claimed but still prettily pink from her spanking.
Jennifer groaned. "Oh sir, please. Can you leave my panties up?"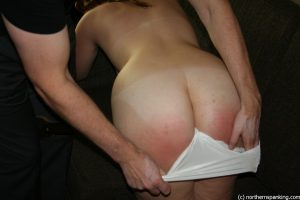 "Have I already seen your bottom, Jennifer? Quite recently?"
"Um. Well, yes, sir. You did. You have."
"So is it something about your panties, then? Have you got a laptop hidden down there?"
She laughed. "No, sir."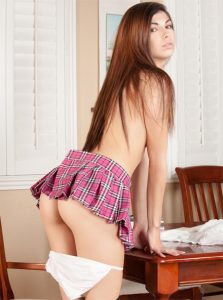 "So you're fussing, girl. All right, you can help me. You take them down for me. All the way to your knees, please."
"Thank you, sir." Jennifer reached back obediently. The panties came down, slowly, as if she felt it was a gift that should be savoured inch by inch. She pulled the bunched cotton past the fleshiest part of her bottom and tugged them all the way down as instructed.
She was a spanked angel, smelling of musk and almond flour, half naked over my desk.