Raylene bent like a bridge over the stairs on the way to her bedroom, her feet on the first step above the landing, her bottom arched up and decorated with 13 stripes from an old leather razor strop. Her forehead rested, her hands behind her neck, five steps above her feet.
It was an uncomfortable position. But I'd promised her she was going to get 30 strokes from the strop in my hand, so her comfort didn't seem to be a priority. I'd raised the strop over my shoulder. She was watching me so I smiled at her. Raylene didn't smile back. She was bracing herself. 
I said, "I'm going to give you ten strokes now. They'll come fast, so I don't expect you to count them and thank me. Understand?"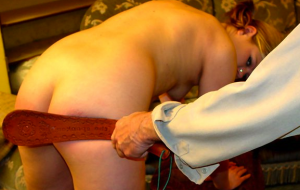 Raylene frowned. "Yes." I strung the strop, quite fast, making it smack low across her glowing red bottom. Raylene jerked forward, then found the control to get her ass up and presented again. "Jesus Christ!"
"You can do better than that, girl."
"Sir! I meant, Yes, sir! I'm sorry, sir." 
"That's all right." I made my voice consoling. I was on her side. "Just try to remember." 
"Yes, sir. Please, Jaime, though. Not too hard." 
"You've got debts to pay, and you know it. And you need to learn obedience. Get the habit of doing what I say. So of course they'll be hard."
"Oh, sir…"
"So brace yourself. You can close your eyes if you like."
"Sir." Neither a thank you nor a protest. That was right, I thought. I doubted if closing her eyes would help deal with the razor strop. But I was going to take care not to hurt her too much, and I didn't want her to see me taking care.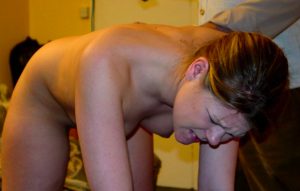 I made the first stroke genuinely hard, and Raylene was already writhing and squealing by the time the smack of leather on skin had echoed in that stairwell and ended. But the next stroke came quickly. It was lighter, as were the next eight strokes. She cried out continually while I strapped her, as heart-wrenching as a kitten in a vice. 
But her writhing, another measure of girl-pain, was much less dramatic. She was feeling pretty good. She'd taken a flogging that I hoped she thought had been viciously hard, and survived. And she had only seven strokes left of her promised 30. She was realising that she'd managed something that she'd thought would be impossibly challenging.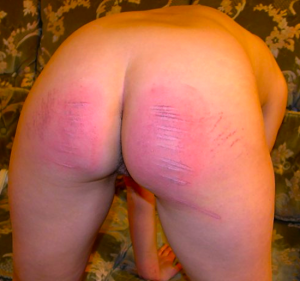 I said, "Good girl, really good. You're a brave girl, Raylene." But then I stopped talking. There were voices in the kitchen downstairs. I hadn't heard anyone come in. How much had they heard? A woman called up, from the passage on the ground floor, below us. "Raylene? Are you okay?"
Raylene said, "Oh fuck!" I expected her to scamper up the stairs and hide in her room. But she did not move.