Helen Chandler felt hands cupping her ass and knew it was him. He whispered in her ear, "I vant to drink your blood." 
She put her hands on his, but didn't remove his hands from her ass. But she said, "Oh, cut it out, Bela. Mildly funny the first time, but…" 
Bela Lugosi sighed. "But we half been waiting for ze director now for… three hours. Are you not unott?"
She nodded. "My trailer. Smaller than yours, but less… public."
"I will giff you fife minutes." His Hungarian account got thicker when he wanted sex. She wondered if it was deliberate.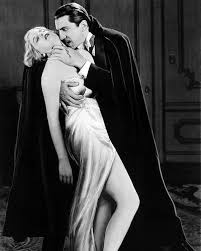 In her trailer Helen rook off her silken robe, all she was wearing. She lowered herself to her knees. She wondered if she found it so easy to submit to Bela because her character, Minna Seward, was so submissive to the Count. They made their scenes together as sexual as they dared. 
The door opened, and Bela stepped in, using his cloak to prevent the film crew from seeing her naked, kneeling form before he closed the door.
He said nothing, but took her hair and pressed her towards him. Her mouth opened, and she took in his engorged cock, the head touching the back of her mouth, finding its way into her throat. She closed her eyes and sucked fervently, wanting to hear the tribute of his gasp.
There was something perverse about this, his cock engorged with blood, within the cage of her teeth. He was supposed to be the one with fangs, the one who fed on blood. But the urge to bite that delicious blood-hard cock, to taste that blood: that was getting stronger every day.