Product review: The Pulse Duo, by Hot Octopuss. 
Price: A$189.00, plus shipping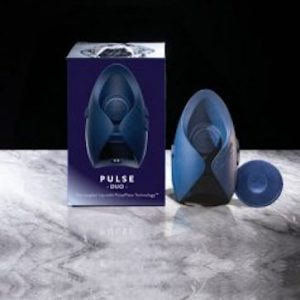 This a remarkable toy in its design and use. Essentially it's a kind of vibrator that's useful for male and female solo sex, and is also designed for use by couples. 
This review is based on tests with male use, female use and couple use. 
Description
The Pulse is a silicon toy, with that combines two vibrators, an outer one for female use, and an inner surface, with wings to surround the penis, for male use. 
It has six vibration settings: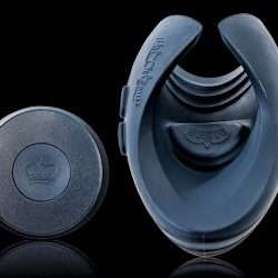 1 Steady vibration
2 Slow pulses
3 Faster pulsing
4 Very fast pulsing
5 Three fast pulses and then one long pulse
6. Light "heartbeat" pulses
User reports
First trial: Male use
I'm new to masturbation toys for men, so this is a slightly naive report. But I have to say I'm impressed. The penis, whether hard, semi-erect or soft, goes into the valley formed by the toy's inner surface and its wings.
I experimented with the six pulse/vibration speeds, and personally came to prefer setting 5, three fast pulses followed by one long pulse. You can choose another option, according to your preferences, which is part of the beauty of it.
The first time I used it I used lubricant (water-based, otherwise you will mar the surface). But I found on later trials that lubrication actually isn't needed. It fits and slides along the shaft of the penis quite smoothly without lube.  
I can report that it's very easy to use, it feels great and it works! An A from me!
Second trial: Female use
My brave volunteer says: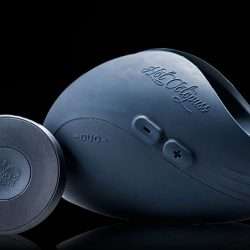 "For women, the business edge of this toy is the bulgy bit, at the other side of the winged part meant for men. You can hold it easily, and press it against bits of your body that are a bit … concave. 
So I did, and it definitely feels good. One advantage women have with this toys the separate, supplied button that lets you select your pulse rate, for the surface you're working with (or, if you like, that's working on you), with a remote control button.
So you can vary your speed as you go, for example working up from the gentlest to its rumbliest settings. 
One thing I found is that it lasts half an hour, starting from fully charged, at the rumblier settings. It doesn't slow down gently; it just suddenly stops. For me, I timed it twice and it stopped at 31 minutes. Be aware of that if you really like to take your time. 
But it really is a good, strong growly, rumbly toy. I don't mean it's noisy. It can't be heard through a door (I tested). Rumbly and growly is what it feels like. 
I give it an A."
Couple use
The male and female testers have played with the toy, and each has their favoured vibration speed and style. The next step is couple use. 
Essentially I put the Pulse on my cock, and pressed against my partner and co-tester so the outer edge pressed against her labia. We found that it works best if you don't move about much. It's easy for it to lose its place pressing against the vulva if you get energetic. So it's a toy for intense concentration and lots of eye contact while only moving the hips slowly, and not from side to side.
For that it works very well, and that's a good thing. Being stimulated strongly without moving, which is an unusual and good sensation.
I found that it has a psychological effect: you tend to focus on the other person. The stillness has its power. 
Neither of us came, using it together, but it is (I think) more of a foreplay kind of toy when used in a twosome.
After the half-hour cut-off point, you can set the toy aside, go on and do penetration or whatever you want, and go for it.  
We gave it an A-, docking it just half a notch for the difficulty keeping it in place during pre-intercourse. But that's a minor quibble.
It's an interesting toy that feels great, and allows you to be strongly stimulated while staying relatively still. Pressing together, eye to eye, while it moves both of you, is just a luxurious sensation.
Summing up
It's a great couples toy. As a solo-use toy it's probably better for men than for women, though it works for both. It takes just a little getting used to, but then it delivers.
Overall grade: A!