The previous episode is here.
I dipped my finger in the oil collected at her anus. "Hmm," I said. "I'm sure you'll often find this part of your body lubricated in the future." 
"Sir?"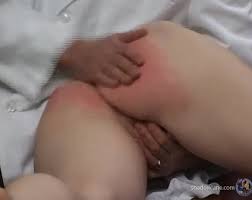 "A man who wants you, Jennifer, will certainly need to take you here." I pressed my finger down a little, not quite entering but letting her feel her own muscles ready to admit me. Then I spread the oil, moving down into her perineum. Jennifer's moan was loud, and unambiguously sexual. She was nearly ready.
"But that's in your future, girl. For now-" 
I resumed stroking her buttocks and thighs, with Jennifer rising and falling under my hands. Her breathing was urgent. She was close.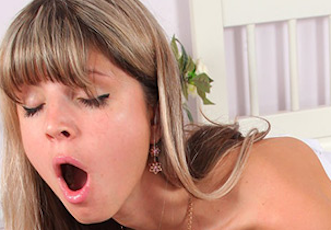 At the last second, I reached low on her buttocks and pressed hard, fingers digging into where her sciatic nerves would be. Jennifer sobbed, once, and her body rose briefly from my table. She was silent after that, trying to conceal that deep and perhaps surprising orgasm she'd just had.
I maintained the pressure, and a few seconds later she gave another shudder, and then was still. Her face looked anguished. Her eyes were wet. There were tears on my desk.
I resisted the urge to take her in my arms, kiss her and praise her, and instead resumed kneading her as if nothing had happened. My cock ached, in restrictive clothing. I wanted her so powerfully. 
After a minute I slowed and stopped, and gave her right buttock a pat. "I think that'll do you, little Jennifer. I'm sure we've dealt with any pain." 
There was no response. Jennifer was still entranced. There was drool as well as tears on my desk. I reached for her shoulder. "Girl." There were threats, disciplinary threats, in my voice.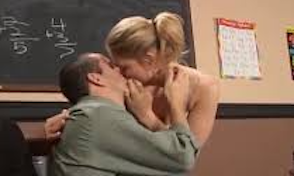 She let me help her up. She stood, panties still round her knees, and looked at me, red-faced, wet-eyed. She wiped her mouth. She wore no lipstick. Suddenly she launched herself, threw her arms around my back and kissed me. It was passionate, needy. I was sure it was the first time she'd kissed a man.
I let the kiss last, because it was wonderful and I wanted to treasure it, and it meant she had surrendered to me more than she knew. Yet. She rubbed her breasts against my chest. "Thank you, sir, thank you, thank you!" 
But eventually I smacked her bottom. She remembered where she was. She stepped back. "Sorry, Headmaster. I was – I just wanted to say thank you." 
Of course I smiled. "You are an incredibly good girl, Jennifer. And sweet-natured. And there's nothing at all wrong with that." I spoke with absolute sincerity. These things were true. "Now, the oil's soaked into your skin, girl, so you can pull your panties up now."
For some female reason she turned her back for this operation, so that I could watch the slow concealment of the lower half of her bottom. 
When she turned to face me, a smiling girl, her face only slightly flushed, I gave her a piece of paper I'd had Maddie type earlier. She looked at it blankly. "Sir?" 
"That's a note to Wynetts. The shop your mother bought your uniform. Take that piece of paper to them – they're expecting you this afternoon – and try on uniforms till you find one you're comfortable in." 
"Sir, please. I can't take-" 
"There's a school fund for exactly this sort of issue, Jennifer. You can and you will. Get s uniform that looks good. Not like the one you're wearing now, and not too conspicuously modest either. Just get something so that you look like the other girls. All right?" 
She stepped towards me, then stopped. Propriety had broken out. She said, "I'm glad I kissed you, Sir." 
I smiled. "Do you want your bottom smacked again?" 
Her face was pure mischief. "Perhaps." 
So I tried to look stern, and said, "That's enough of that." But I couldn't stop smiling. I took her ear and led her to the door. "Off you go, Jennifer. See me tomorrow morning, in your new uniform." 
"Yes, Sir." I resisted the urge to pat her bottom, and shut the door behind her. I sighed, happily. I needed release. I needed Maddie, with some urgency. After some thought, I took the senior cane from my cupboard. I had no idea if she'd properly tidied and cleaned the storeroom, and I'd warned of consequences if she hadn't. She'd be waiting for me, having listened to, among other things, Jennifer's beautiful, bell-like orgasm. 
I opened the storeroom door. 
The next episode is here.