So we lay in Monica's bed. Danny the cat had looked death at me as my foot blocked the way just before the door closed. But I was happy with his absence even if he wasn't. Monica might have lost a smidgeon of protection but she didn't seem to mind.
Monica had already been nearly naked before I tipped her onto her bed, but I had to pull off my shoes and socks, jacket and shirt, and pants before I joined her. While I was undressing Monica turned over onto her hands and knees and waggled her arse at me. She was right: I was hard again, wanting her, only about ten minutes after I'd come in her mouth.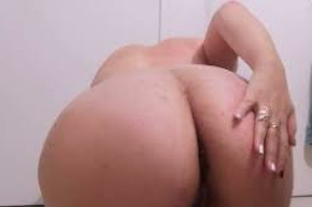 So I lay down beside her, on my back, and pulled her over my lap, her hard little arse jutting gloriously upwards, Monica looked up at me.
"I know what this is! I've never actually been in it before. But this is the Famous Spanking Position!" I could hear the capital letters.
"Yeah." I slapped her bottom lightly, then caressed her. She felt wonderful, firm and soft.
She said, "And you're happy." She meant she could feel my cock, hard, under her belly. I reached my fingers into the crevice between her lower buttocks and ran them further down, spider-walking with my fingertips until I touched her cunt. She jerked at the contact, my fingertips now a little wet and slippery, and then relaxed as I stroked her, very lightly. Her knees and her forehead dipped and rested on the sheet, all her consciousness, I expected, focussed on her cunt and my fingers.
Then, without warning I suddenly smacked her left cheek, hard. She sang, "Yiii!" But she looked alarmed only for a microsecond, then she grinned. It hadn't hurt. Far from it.
I said, "'Thank you, Sir; may I have another?'"
She looked at me, again with only a microsecond of disbelief before she nodded. "Thank you, sir. May I have another one? Just like that?"
She got another, and asked for more. And we continued, Monica learning that the Famous Spanking Position works, until her lower bottom, where I'd concentrated the smacks, glowed red and nicely warm. After the twelfth smack I stroked her cunt again, finding her comfortably relaxed and even wetter.

She sighed under my hand, and raised and turned her head to look at me. "Why is that so fucking hot?"
I considered not answering, because the explanation I knew wasn't as sexy as it should be. Not as sexy as getting her even hornier and then beginning the promised hundred strokes from her wooden spoon. But it had been a serious question, so I said, "Have you ever manually tuned a radio? Or a TV?" 
"Yeah?" 
"Well, just before you reach the station, you get a loud burst of white noise, right?" 
"Yeah?" 
"That's the carrier wave. It carries and boosts the signal." 
"OK."
"Inside the carrier wave, when you tune the receiver closer, you get the signal, all the creative stuff, the words and music, plus vision if it's a TV. That's the content. But without the carrier wave the content isn't very powerful. I mean it probably wouldn't reach your set, or only very weakly."
"OK." 
"Arousal works the same way. I smack your arse. Stimulation, right? Your body reacts, strongly. That's the carrier wave: arousal. But on its own the arousal is just loud white noise. It's the signal that gives it meaning. So if you're already turned on, and the context is sexy, then each smack boosts your arousal and boosts the signal, makes it sexier. You're creative too: you create a lot of the sexiness of it."
Monica reached for and kissed the hand that had just spanked her. "Yeah, I see that. If I was at work and you were my supervisor and you slapped me on the arse: same stimulation but the meaning would be different, and it'd make me fucking angry."
"Exactly. Of course it helps that every smack on your arse, your cunt feels it too. And, um, some people, they like to let go sometimes and have things just happen to them. They like to issue a good, helpless, sexual surrender. Not that you're like that," I lied, politely. 
"It's not hypnosis," Monica said, "but it's still a mind game. And you still need the subject's cooperation, just like I do." She nodded. "I have to be turned on. And feeling a bit surrendered." 
I pressed two fingertips into her cunt. She moved, trying for more, and captured my fingers to the first knuckle. I pressed further then withdrew a little, hoping it was good but still frustrating. Monica flopped up and down on my cock, in response, like a fish on the bottom of a boat.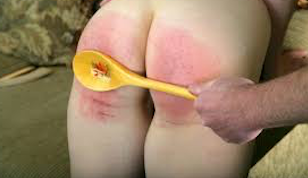 I said, "Yeah." I took the wooden spoon. "Now we're going to make the signal … stronger."  
I let the convex side of the spoon land, hard, on the crown of her right buttock, where – so far – I hadn't warmed her with my hand. Monica yelped.
I struck her again, on her left cheek, so she knew this was going to be hard. And relentless.
Monica yelped and sighed, not at all unhappy. She said nothing more, but began to rock as the blows fell, using my cock as her fulcrum.