Note
The previous episode of this story is here.
Swingin' low, swinging' sweet
Stephanie picked herself off the ground, after her post-orgasmic descent of the slide, while some good citizen, who must have heard her coming and then loudly protesting that I was an utter bastard, switched his front lights on. A second later he opened his door. I could see him, but he couldn't see us. Stephanie was all for running back to my place, naked as she was. But I joined her, carrying her little white shorts and even littler white panties. She whispered, "There's… people."
I whispered, "And you thought they'd lose interest if you ran naked across the road to my place?" Then I smacked her pale, moonlit arse, firmly enough to be felt, but light enough for the sound not to travel.
Stephanie gave me frowns. She wasn't calm yet. "Well, what else..?"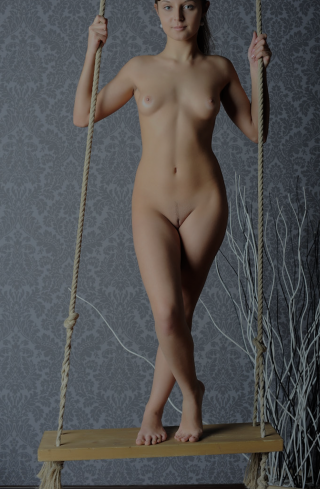 "We disappear for a bit. Come with me." I took her hand and led her back to the swings. They were in darkness, protected from the street lights by trees and the corner of a wall. Stephanie looked at me with disbelief, and more frowns. So I smacked her bottom again.
"Sit."
"You're crazy." But she sat in the swing.
"Good girl. Now spread your thighs." Stephanie obeyed. She'd left a landing strip of short, fairish hair above her cunt. She knew I'd think her cunt was pretty, even in the murky depths of our twilight.  
I smiled. "That's a hot little cunt. You need to be fucked soon, don't you?"
"Glad you noticed. Ow!" The Ow! was because, her bottom out of reach, I'd squeezed her nipple. She held on to the chains on either side of the swing's wooden seat. She made no attempt to protect her nipple. If I thought she needed a small, measured portion of pain, obviously that was for me to decide.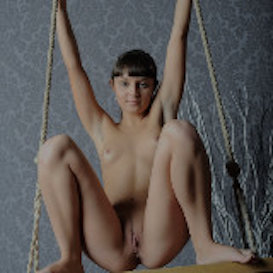 I said, "Now put your hands on your cunt. Both hands, Steph. Don't worry, you won't need to hang on. I mean, not to the swing."
Stephanie put her hands down, and, when I nodded, began to stroke herself, faster and harder than I would have. I waited till she made her first gasp, almost silently, and took hold of the chains. I tugged my underpants down a little so my cock flicked free, more or less at her nose. "Now open your mouth, girl." 
She opened wide, and took in my cock, then tightened her lips on the shaft, sucking hard. Enthusiastically. I let the swing do the work, mostly keeping still while her body rocked back and forth on the seat, her mouth taking my cock deeper and then almost-but-not-quite releasing. Time past, while she stroked herself and pleasured me. She made another small, happy whine, and suddenly I let go of one of the chains, and pressed the back of her head, making her take all of my cock into her mouth and throat.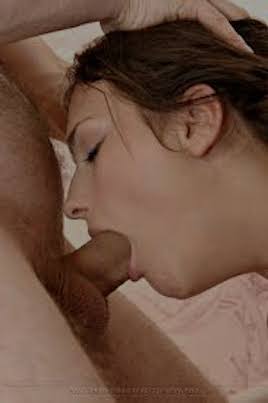 I began to move at last, fucking her mouth hard. At one stage she choked, but I didn't let her draw back. She coughed once, then again, and then took my cock as deep as it would go. Hungrily. This was more than Stephanie being a good girl demonstrating her skills; this was Stephanie enjoying herself.
She made another pleasured sound, and I put both hands on her shoulders, letting her choose how deep my cock would go, but pumping my hips, fucking her mouth hard. I wanted her to feel me taking my own pleasure with no consideration for her. I figured – no, I knew – she'd like that.
Usually I give some sort of spoken warning, but it was clear that Stephanie didn't need it. I made one thin nasal moan, trying my best to keep the sound down, and came in her, cock pumping, spurting deep in her throat, my body in spasm. I had to grab the swing's chains to stop myself falling over.  
Stephanie swallowed, running her tongue along and around my cock. I wanted to say things, and breathe hard, but I was still aware that there was a guy out of his front porch, listening. Not, I judged, that he could hear us. He'd be worried about vandalism, not sex, but I was reasonably sure he'd disapprove of sex too. It was inappropriate in a children's park. 
Stephanie stopped licking and swallowing my cock clean, eventually, and looked up at me. There was a little drool of my come and her saliva, down from the left corner of her mouth. She licked it away quickly, and something about that made my cock twitch in her mouth.  
The light went out, and the front door closed. I withdrew from her mouth, though I was still half-hard. Stephanie smiled. "I thought he'd never fuck off. Um, shall we? Again?"
Note: The next episode is here.