The previous episode is here.
"So we stopped in a brick house, two-storied, in Remmers. That was a good neighbourhood in my town. My parents didn't know anyone who lived there, and neither did I. He let me walk, this time, and took me up to the door, and unlocked. 
He put his hand on the small of my back to steady me. I'd started to get the shakes, from reaction. So he led me in. I looked around. I was impressed: he was rich, by my standards, and he had good taste, by my parents'. I guess almost any house owned by an adult would have impressed me, at the time. Now, looking back, I see that he really did have good taste.
One thing I remember is that he had some Renoir nudes. Just pencil drawings, and quite small. You could buy them in those days for only a few hundred dollars. He had three. He'd framed them, but they were kind of discreet, on the wall by his bedroom door. They weren't in pride of place. He'd bought them because he liked them.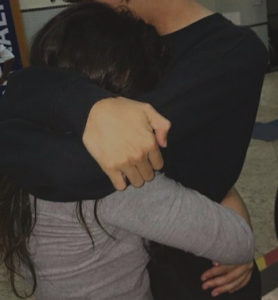 Anyway, he saw me shaking, and he came over quickly and hugged me. Just held me. Told me I was good, I'd done nothing wrong, and I had every right to be angry but I shouldn't be ashamed. Then he held me until I settled, stopped shaking and just went limp in his arms.
He sat me down then, and got me a drink. He said I needed an adult drink. An 'adult drink', by the way, turned out to be Kahlua and coke. It seemed very adult to me, especially since he'd said so. But now I realise that it meant I wasn't the first schoolgirl he taken home. 
I chugged it down while he ran a hot bath. When I was finished he went to his room and came back with a huge bathrobe. He said, "Bathtime, Maddie."
"What do I need a bath for?" I thought he just wanted to see me naked. Though he already had, so that was nonsense, of course. But I wasn't thinking well.
"You… I think you feel that you've been made dirty. You haven't, Maddie, not at all. But I think you'd feel better if you scrubbed every last touch of that bastard off of you. So, off you go. Into the bath. Up!"
I stood up. I took the bathrobe, and walked to the bathroom door. There was hot steam rising, and it smelled of eucalyptus. It did seem good. "Thank you, sir." 
"Just a moment, Maddie. I'm going to turn my back. But you're to take everything off, and leave it in a little pile outside the door." 
"But I can't go home in different clothes!"
"You won't. I'll have them washed and dried. They'll be ready in a couple of hours, no more. And you can wear the robe in the meantime."
"But… I don't know… Can't I just put my clothes back on?" They did stink. I knew that. I just felt suddenly shy.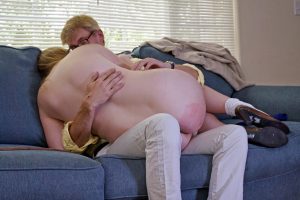 "Maddie." I'd heard that tone from him before. "I said I won't cane you tonight. But if you try for a spanking, you'll get one." I realised that a spanking was exactly what I wanted just then, so long as he made it last a long time, and stroked me, and cuddled me afterwards. I wanted that so much. But I didn't know how to say so.
He was still using the do-as-you're-told voice. "Leave all of your clothes on the carpet, right now. And go in and have your bath. I'm counting to five."
He turned his back.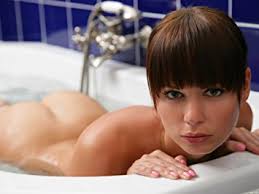 I fumbled with the top button on my shirt. I wondered if he'd come in. I wondered how I could make him come in. 
"One."
I squealed, and i'd stripped before he got to four. And pulled the bathroom door almost closed once I was naked. He never had to say Five.
The next episode is here.