I raised the belt. Stephanie, over my knee, raised her arse to meet it. Her head was down, hair hanging over her face while she stared at the carpet and her hands, touching the carpet. 
I put my hand back on the small of her back to hold her in place. "This'll be the first time you've ever felt my belt. I think I should make it memorable. Do you agree?"
"Get on with it please, Sir. Before I lose my nerve."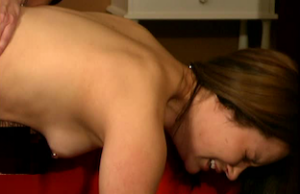 So I transferred the belt to the hand holding her down and smacked the back if her right thigh, then the left, with my hand. Two loud claps, and one long squeal from Stephanie.
"I was saying I think your first stroke of the belt should be a stinger. So you remember it. Do you agree?" 
There was silence. Then Stephanie said, still addressing the carpet, "Yes, Sir, I agree." 
"Good girl. Now, keep your arse up. You look just perfect, not that I need to tell you that. And count down, aloud from five."
"Oh. I see. Five."
"Good girl. Clever girl."
"Four… Three… Two…" There was a pause. Stephanie was very still. "One."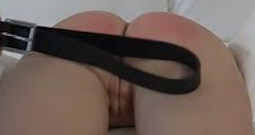 I said, "Zero," and brought the belt down, across the pink crown of her bottom. The crack of leather and flesh impacting filled the room, and Stephanie jolted down onto my lap, her hip hard against my cock, also hard.
"Yeeoww!"
She danced horizontally on my lap, her legs up and kicking, thighs spread as if she was swimming. ""Yeeeee-oww! Yeeosh! Yosh!" 
I said, "Good girl, little love. That one had to be memorable. It had to mean something."
"Yow! Oh Sir you bastard! That's memorable! Do I count down again?"
"No love. Just for the first. Now relax. We're going on a little ride together." I swung the belt again, catching her just a little lower, about half as hard. The sound of impact was still impressive, and I heard Stephanie's squeals again, though not quite as loud or as anguished. I was falling in love, or lust, with that sound.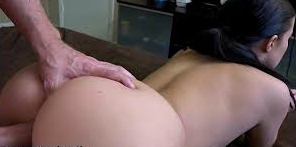 I gave her the remaining four at the same intensity, and by the sixth stroke Stephanie had relaxed. No more jolting and no more squeals. I judged that she was back to enjoying herself. I put my hand on that hot, red skin and rubbed, then squeezed her and pressed my thumb into her anus.
Her movements slowed, and she tightened on my fingers and sighed. I smacked her lightly with my holding-her-down hand. "Ready for your second six?"
She didn't hesitate. "Yes. And Sir?"
"Little Steph?"
"That first one was a bastard. I'll remember that, long as I live. But … the others: you can go a little harder, Sir." 
"Do I need your permission, Stephanie?"
Actually I did, since certain agreements hadn't been made. But she shook her head. I had to imagine her facial expression: I was sure she was being minxish again. "No Sir, you do not."
"That's right," I lied.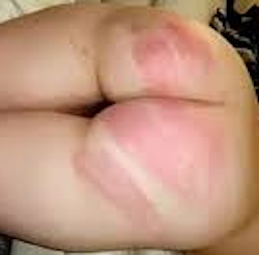 I gave her the next five, making each just a little harder than the one before. There was no more squealing: her reaction was slower, her breathing more languorous. She was drifting into that mental space where I could keep belting her for hours and not hurt her at all. We'd do that one day, I thought. Then I thought, We'll do it soon.
But I said, "Last stroke. The last one is usually memorable too." 
I'm not sure if she heard me, or if she was listening to words. But I raised the belt a little higher than before, and swung it harder. The impact sound was, well, there's beauty in these things, but Stephanie only said, "Hahh!" 
I held the belt to her mouth. "That's all for now. You're a brave, good and deeply fuckable woman. Hold this." 
Stephanie nodded at me. There were tears on her eyes and on her eyebrows, which is what comes of crying when your face is upside down. She smiled, pleased to see me, then opened her mouth so I could stow the belt. I sat up straight then, and lifted her with one arm under her thighs, the other under her belly, and kissed her blazing hot bottom.
Kisses have magic curative powers, my mother had always taught me.