"So we stopped in a brick house, two-storied, in Remmers. That was a good neighbourhood in my town. My parents didn't know anyone who lived there, and neither did I. He let me walk, this time, and took me up to the door, and unlocked. 
He put his hand on the small of my back to steady me. I'd started to get the shakes, from reaction. So he led me in. I looked around. I was impressed: he was rich, by my standards, and he had good taste, by my parents'. I guess almost any house owned by an adult would have impressed me, at the time. Now, looking back, I see that he really did have good taste.
One thing I remember is that he had some Renoir nudes. Just pencil drawings, and quite small. You could buy them in those days for only a few hundred dollars. He had three. He'd framed them, but they were kind of discreet, on the wall by his bedroom door. They weren't in pride of place. He'd bought them because he liked them.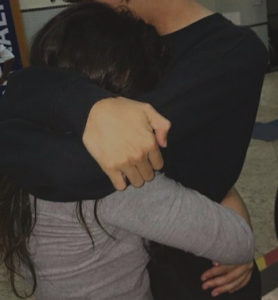 Anyway, he saw me shaking, and he came over quickly and hugged me. Just held me. Told me I was good, I'd done nothing wrong, and I had every right to be angry but I shouldn't be ashamed. Then he held me until I settled, stopped shaking and just went limp in his arms.
He sat me down then, and got me a drink. He said I needed an adult drink. An 'adult drink', by the way, turned out to be Kahlua and coke. It seemed very adult to me, especially since he'd said so.
But I'm going to have to cut here, though. This has been published and my publishers don't want free competition from me. You can read it here.