The previous episode is here.
Once I'd hauled off Fliss's jeans and panties, and smacked her bottom because it was too adorable not to (could this be the last time, I wondered?) I lay back against a stack of pillows like a pasha, took my belt off and kept it in my hand.
Fliss got up on her knees, leaned forward, and extracted my cock with her hand, and began dabbing at it head with her pink little tongue.
I was aware that I wasn't being a good boyfriend at that moment. But Fliss didn't know that, so she was happily serving.
I wasn't quite comfortable, ethically, but my cock wasn't interested in that kind of issue. Fliss was smaller, more compact than Maureen, slender, with small breasts and a little hard arse like a pair of apples. Cock, once it's excited and being pleasured, has as much conscience as cunt, or, for that matter, as a brick.
After a time Fliss stopped playing, and took me deep in her mouth. And I held her head with the hand that held the belt, and she started to mouthfuck me, rather fiercely, while I held her head. I let the belt press against her face so she could feel the leather and imagine she would be punished if she didn't serve me properly.
Usually I would smack the belt down her back, letting it impact and curl around her arse, usually not hard enough to hurt, but with occasional harder lashes, while she sucked my cock. But on that occasion I didn't quite feel that I had the moral authority. She went unleathered. 
But I was in danger of coming, and I wasn't sure what my recovery time would be like, after having already come in Maureen that evening. So I hauled Fliss off my cock, and pulled her up the bed and forward until her cunt was pressed down against my mouth.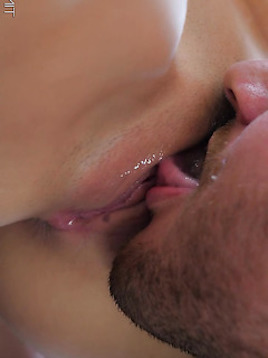 I dropped the belt to get both hands on her buttocks, holding her against me while she leaned forward to rest her face and arms against the wall. Fliss tasted of cinnamon, for some reason, also soap and faint urine tangs, but her basic cunt taste was bland, a little sweet and salty.
The was also a faint hazelnut taste. Fliss's older sister made oils and unguents as a sort of household industry for her and her kids, and it was probably some sort of hippie-ish health thing. Anyway I liked her tastes, and worked at her cunt until Fliss was squirming and squeaking and demanding to be let down.
Eventually I released her, and she scrambled down to drag my pants off, while I pulled my shirt off over my head, keeping my back and its collection of Maureen's clawtrails against the pillows.
So we were both naked, and I held Fliss's hands while she straddled me and lowered herself, very quick and greedy, onto my cock. Usually there was a long, slow section at the beginning of our fucks, but we skipped that. The thought occured to me, pounding up into her, watching her little tits bounce, that it was probably a good thing that I'd already come in Maureen, because otherwise I wouldn't have lasted long. Though I didn't expect that I could introduce that as any sort of argument.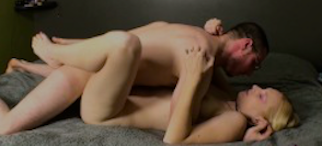 Anyway, after a while I pulled Fliss down against me, and rolled us over so she was on her back and I was on top of her, holding her, slowly pumping in her sweet wet cunt, while she held her breath and spread for me. The scratches on my back were in the open air, though Fliss couldn't see them. 
And it was in that moment, staring down at Fliss, her eyes closed, intently working on her pleasure and utterly carried away with getting fucked, that I realised that there was a way out. I might just get away with this.
The next episode is here.