The previous episode is here.
The signal that this should go in anther direction was that Maureen said, "Jaime. Jaime, I miss Carstairs".
And so I carried her over to her bed, lifted her off my cock, and dropped her.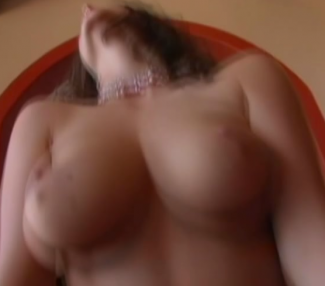 Maureen bounced, something she did quite appealingly. I watched her breasts until they settled. Then she turned over onto her front. I looked down at her nicely contoured back and said, "well, yes, Carstairs. Those were the days."
I undid my belt buckle, and made sure that the belt made a good loud leathery-slithery noise as it pulled free from the loops of my pants.
So we need some explanations. Why, for example, would anyone react like that to the name "Carstairs"? It seems a bit like Steve Martin in Dead Men Don't Wear Plaid, who would go berserk whenever someone said "cleaning woman". (If you haven't seen Dead Men Don't Wear Plaid, you should now.)
But I don't really have a generic hair-trigger thing about the name "Carstairs". If someone said it to me now, they might glimpse a bit of a smile if they were quick but they'd be boringly safe. "Carstairs" was specific to Maureen and me.
Maureen was one of the first submissive women I had ever found, in joyous mutual recognition some time after we'd already become a couple. 
She and I only had only ever done bedroom bdsm, and it was usually just a warm-up spanking followed by sex. But when we wanted to do something more intense, with tying up, and harsher orders from me, and the harder instruments, then we tended to use role plays. At that early stage in my bdsm career I found it more comfortable if the man who subdued and hurt Maureen wasn't really me, or not quite; and if the woman who suffered but enjoyed those things wasn't quite Maureen's everyday self either. The games were silly, but they allowed us to do harder things that we wouldn't do as ourselves.
Most of these games started on the pretext that Maureen had just insulted a grey, spindle-nosed neurotic husk of a woman called Vera Carstairs, who might be a teacher, prison warden or an office senior, depending on the game being played. I would deliver stern justice in retribution for the insolence that Maureen had shown our imaginary Miss Carstairs.
I don't use role play any more, since I've learned to be as harsh as the situation and mutual pleasure warrants, as myself, and without a qualm. But the "Carstairs" games games were an important stage in my bdsm learning.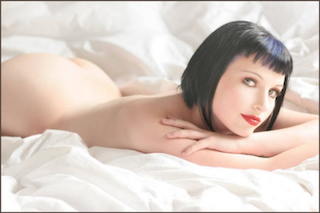 So the game was afoot, though we didn't bother to invent a reason: I didn't  think of exactly what Maureen had done to poor Miss Carstairs this time. I just doubled the belt, gave her a quick kiss on the cheek, then her shoulder, and then pressed my other hand down on the small of her back, holding her firmly down.
There would be squirming once I started her strapping, but, safewords aside, she wasn't going anywhere until I'd finished.
Maureen arched her bottom up, and waited. It felt odd, for us to be so sexually intense together months after we were supposed to have broken up. But I was happy to be there with her, in this room and in this mood. So I pushed the small of her back down even more firmly, raised the belt, and brought it down, lustily and loud, across the crown of her buttocks. There was a beautiful creamy ripple where the strap landed, and Maureen sighed, though she kept herself still.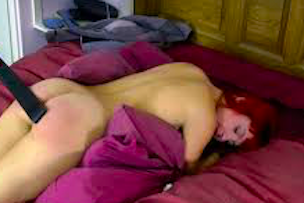 A few second later, a beautiful red band magically emerged across the pale, lightly freckled, domes of her bottom. It was a beautiful and intensely, immensely sexual sight. I hadn't expected this, and it was good. I said, "Yeah, little Mo. I've missed this too."
I raised the belt again.
That's where I'll break, for today. There's trouble ahead, I should say.
The next episode is here.