The previous episode is here.
I'm taking a break from the Raylene story. This is something different; it's a riff on one of the most common bdsm fantasy scenarios. It's not my usual style, because these things have a specific style of their own. It's a sort of genre exercise. It's the last, or most recent, instalment of a series I wrote on request a while back. I didn't get round to posting it at the time.
You can find the first nine episodes under the tag "Cindy's school story". And you can find some discussion about the special diction, and the sexual politics, of schoolgirl spanking stories, under the tag "schoolgirl spanking stories". 
Schoolgirl spanking story
The Master pushed his chair away from his desk. He looked up at Cindy and patted his thighs, indicating where she was to place her body. 
Cindy walked round the desk, and stood beside him. He smiled. "I suppose you haven't done this before. You'll get used to it soon enough. Bend at the waist, and lie over my lap so that your bottom is the highest part of your body."
Cindy bit her lip. This was exquisitely personal. She knew she was blushing furiously. And she knew that any delay would be dangerous. He'd said that if she didn't do as she was told he'd take her out into the corridor, naked as she was, and cane her where people could watch. Would he carry out that threat? She didn't doubt it for a second.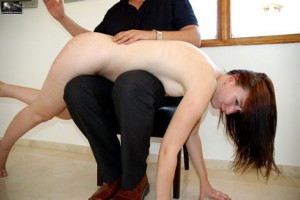 She bent over his knee quickly, and put her hands on the floor on the far side of his chair. Feeling intense shame, she lowered her weight onto his lap, knowing she was giving him a view of her entire body. She had to wriggle forward a little to get her bottom right up as he'd ordered her. She felt his thing then, hard, pressed against her side.
 But his voice was calm. "Good girl. Now open your legs. Feet right apart, wide as you can."
Cindy moved her feet about half a meter apart. She was aware of her pussy, wetter than she wanted him to see. And she knew her other, tighter, hole was exposed to him. With a little gasp of dismay, she tried to move her feet just a centimeter or two closer.
"Stupid girl!" The Master's hand landed on the back of her right thigh, hard and sharp. The sound of the smack seemed to fill the room, like a pistol shot. Cindy gasped, but managed not to cry out.
"Get your legs apart, girl." He smacked her left thigh, just as hard. Cindy writhed, biting her lip.
Another hard smack landed, and Cindy couldn't hold it in any longer. "Yeeeow! Oh, Sir! Ow!"
His voice was harsh. "You are not allowed modesty in this room." The smacks continued, and Cindy cried out each time she felt his hand, landing hot and hard on the backs of her thighs.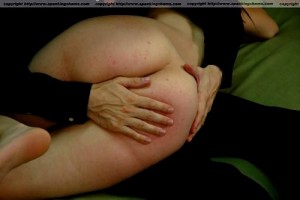 After twelve spanks he stopped, though Cindy still flopped on his lap like a caught fish. She cried like a baby. The strapping she'd taken that morning, bending over his desk, had hurt more, she guessed. But it wasn't so shameful and intimate as being spanked naked over his knee, while she writhed and shook all her most private, feminine parts under his nose.
But he slipped his hand between those glowing, smarting thighs and stroked her pussy, slipping one finger between her lips, stroking up, then down, just inside. Cindy wanted more, but she knew she wasn't allowed to speak. If she asked for anything, she'd just get her thighs smacked again.
So she sighed and let him pleasure her, too excited to worry about what he must think of her, a girl who got wetter the more he punished her. Her pain was forgotten, or rather it had turned into pleasure.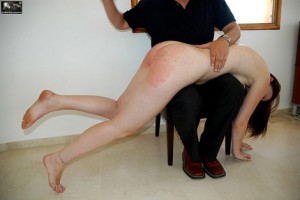 Then he stopped suddenly, and pressed the lips of her pussy between his thumb and forefinger. Cindy breathed hard. It should hurt, she knew, but everything, every touch felt good. 
He pressed his thumb lightly against her little hole. Cindy squealed. But she fought the urge to close her legs. She arched her bottom up for him, to show she was a good girl.
She heard him grunt, pleased with her. "When I punish you, Cindy, you won't have any modesty, so you can forget about being shy."
"Yes Sir. I'm sorry. I'm just not used to … Well, the things you do to me."
"Perhaps the best thing for you is to think that when you're with me this pretty little pussy doesn't belong to you. Actually you belong to the school, while you're here. Your whole body, all of it," – again that pressure on her little hole; this time she did not squeal – "is school property. Do you understand?"
"Sir?" But he would only smack her harder if she argued. Anyway, in a sense it was true. The school was in loco parentis, and if he was in charge of the school, he was in charge of her. She was his, and she was helpless. "Yes, sir." 
"Good. You're a silly, ignorant girl, with a lot to learn. And I find I even have to teach you to do as you're told." He pushed his thumb harder against that littler hole. Cindy could feel herself about to open. The idea terrified her. But she was also too frightened to resist him. Mercifully the pressure relented. "And the first thing you need to understand is that you do as I tell you. What do you need me to teach you?"
"I need you to teach me to do what you tell me, Sir." Cindy opened her legs as wide as she could, now. She wanted him to be proud of her. 
"Then you're a good girl. Though it always seems to take you a spanking or two before you remember that. Now, keep your hands and toes touching the floor, and your bottom arched just like that. We're going to begin your spanking properly now."
And he put his hand on her bottom and rubbed her affectionately. But she knew that the next time his hand landed on her bottom, it was going to hurt, and that he wouldn't stop until she was bright red and hot. Cindy whimpered.
There are no more episodes of this series. For now, anyway. You can go to the beginning of this series and read it in order by starting here.
But there is another schoolgirl spanking saga in this blog, and you could start reading it here.