The previous episode is here.
Finally, she remembered the attitude that had got her into so much trouble. So much delicious trouble. She stamped her foot. "You can't spank me."  
"Oh, you know that I can spank you, Cindy. And that I will."
"No!"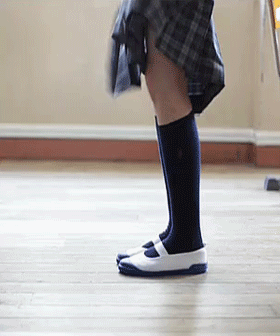 "Take your clothes off, Cindy." 
She was shocked. "What?"
"I don't spank school skirts. I spank naughty girls. On their skin. On your bare bottom, Cindy. When I've finished you'll look like you're wearing red lycra." 
 "Take my skirt off?" 
"Everything, girl. You don't have the right to wear clothes in this office again, until I tell you. Get naked, Cindy. Take off every stitch. Off! Now." 
The next episode is here.