So there we were, at a dramatic moment. Raylene naked and bent over the table, bottom and upper thighs already well striped. There should be 19 welts, but they'd merged and crossed each other and I couldn't count the marks any more in a general splash of corrugated red.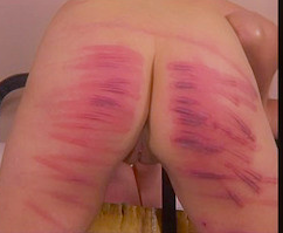 I'd tapped Raylene's thighs, so she knew where the next strokes were going to go. I raised the cane, and whipped it down, twice, across the backs of her legs. I left little pause between them.
Stung, Raylene yowled and twisted, kicking her legs in the air, since it was the only movement she could make. I watched her with awe and desire, and listened to her pain song.  
Dorabella, Raylene's half sister, held Raylene's shoulders down. She did it with real determination, leaving her robe flapping open.
I'd told her that if Raylene got up she'd get extra strokes, and that I'd give the same number to Dorabella. She hadn't definitely conceded that I had the right to cane her, which wasn't surprising since clearly I didn't.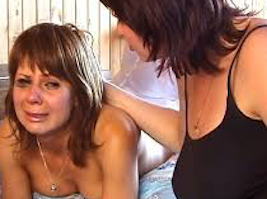 However, Dorabella was afraid that if I told her to take her place beside Raylene, presenting her arse for the cane, she'd do as she was told. By now, I was also pretty sure she wouldn't disobey. 
In the meantime, she was making sure the issue, and her choice, didn't arise. She was taller than Raylene, and though they were both strong girls she'd made sure her extra height gave her the advantage.
Raylene was going to take her caning, and she wasn't going to get out of position.
There were puzzles there: Dorabella seemed to be enjoying herself too much. It didn't seem to be sororal spite, where one sister will sometimes enjoy mild misfortune happening to the other. It was more that there was some sort of unacknowledged sexual vibe between the two of them. This was turning Dorabella on. I didn't understand quite what was going on, but there was no doubt that Dorabella was aroused.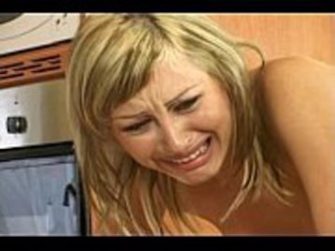 I gave Raylene two more strokes, quite firmly, and fast. This time I aimed high, getting them as close as possible to that wonderful fleshy crease where the thighs and buttocks meet. Raylene screamed, head shaking and hair flying. feet lifting from the carpet, and kicking in the air, until they were the highest part of of her body. Dorabella fought Raylene down again until she subsided.
Dorabella wasn't looking at Raylene. She looked me in the eyes.