She laughed again. "You! You're not making it up as you go along. You know exactly what you're doing."
I decided to leave that unchallenged. It wasn't remotely true, but it was good that she thought so. So I shrugged, I hope ambiguously. "Anyway, I'm falling in love with you. And, you don't have to fall in love with me. I just blurted."
"Yeah. It's okay. Seriously, it's much better than okay. Just .. give me time, ok?"
"Yeah." To mark of the end of one sensitive conversation, and to remind her of other sensitivities, I smacked her ass, hot and welted under my hand.
Raylene jolted. "Yah fuck!"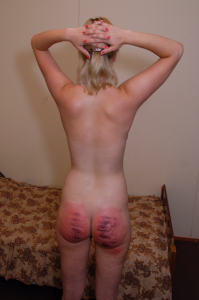 So I smacked her again, then let my hand stay, stroking her. Firm, beautifully rounded, a little rough where the cane had directly landed, and blazing heat.
She said, "Jesus, my arse is sore. How long does it hurt for?"
"Well, this is peak hurt. It lasts maybe half an hour from the last cane stroke, though it'll keep on hurting quite a lot, slightly lower level, for a couple of hours. Especially after I've given you the second dozen."
"Yuh. I haven't forgotten. Master."
"Good girl. It'll maybe hurt most of today. Though it'll be at a lower level. You'll feel it, but it'll be background. And you'll probably like it. A nice, sexy, buzzing feeling. And I'll be looking after you. And for the next couple days you'll get a reminder any time you sit down. Or, I don't know, walk backwards into anything. And don't forget I can bring you back to peak hurt anytime, just by smacking you hard with my hand. And I won't hesitate, if you're out of line for a second. You put the Me in Master."
She frowned. "And without the ME it's a-s-t-r. Star! Ah! You're a star Master!" 
"Yeah, it was really stupid when I said it. Now it sounds cool." 
"You're going to hurt me when you fuck me." That was a demand.
"Promise. That's a promise. Not accidentally."
Her eyes shone. She might not be in love with me, but we were perverts. "Yeah."
I heard the bathroom door open. "Yeah indeed. Now. Running on the spot, Raylene."
"What?"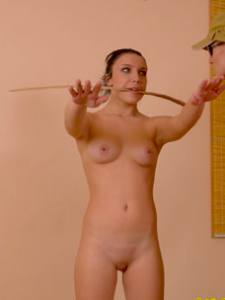 I put the cane in her mouth, for her to hold. And I put my cock all the way back inside my jeans "On the spot. Running. Get your knees up."
"Ub." Raylene took her hands down from her head, and shambled into action.  
"Knees higher or I'll beat you. Girl."
Raylene lifted her knees. I could hear Dorabella, still talking, in the corridor. Raylene jogged and jiggled, with her spectacular back to the door.
I'm a good host.