Note: 
The last episode of this story was posted back in February, here. It's very forgivable if you've forgotten, or never knew, that there is such a story. 
"Humiliation of an ex-Nazi submissive" is the click-baity but entirely accurate title of the story of something that happened relatively early in my bdsm career. I'd been interviewing Raylene in her kitchen about her time with a neo-Nazi gang, which she'd joined to annoy her mother, at a bad time in her life. But then we discovered that she was submissive and I was a dom, and that we fancied each other. Things happened very quickly from there, though I've been telling it excruciatingly slowly.
When we left Raylene, she was being caned in front of witnesses. The witnesses were Dorabella, her half sister, and Lynette, who'd been trying to get Dorabella into bed.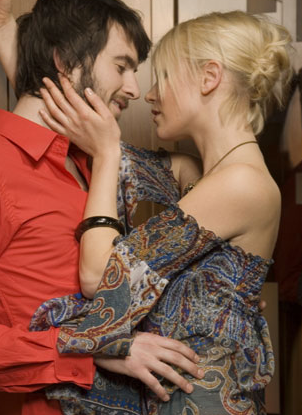 By now, Lynette had switched her sexual ambition to Raylene and, to my surprise, me. But although we hadn't liked each other much when we met yesterday, we'd exchanged breath, our tongues had touched the other's teeth, and we'd fondled each other's genitals: through my clothes in her case, but fingertips to soft wet skin in my case.
The attraction was real, and starting to feel urgent. So we'd interrupted Raylene's caning to take a kissing break. To Raylene's disbelief.
Now read on. 
The subtle threesome
Raylene said, again, "Master?"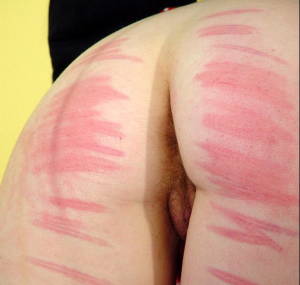 I could see her point. Generally, if you're getting caned in front of witnesses, you should expect to be the centre of attention. But I'd shown Lynette that being humiliated was one of Raylene's most favourite, hottest things. She'd caught on quickly, and she'd found that humbling Raylene made her feel wicked. She was starting to enjoy feeling wicked. All this added a pleasantly perverse edge to our kisses. 
I slid my hands down to hold Lynette's bare ass under her skirt, Lynette made a little "ah" sound, and straightened her back. She had a sensitive little arse: that was worth remembering. She explored my back under my shirt. Doing anything except pulling each other down to the floor and fucking then and there would clearly be ridiculous. But I said, "I said yes, Raylene. What do you want?" 
"Master, I'm sorry, I lost count. How many strokes do I have to go? Master?" 
I sighed ostentatiously, and said, still facing Lynette, "you've got the last six of your dozen to go. And there's one penalty stroke. So far. So seven. Girl." 
There was a pause, from Raylene. "Thank you, Master." Her voice was small. 
Lynette smiled at me. She'd enjoyed our intimacy for its own sake and for its effect on Raylene. We hadn't been to bed together yet – Lynette was to join Raylene and me at midnight that night – but we were already playing a pleasantly complex three-way sexual game. A subtle threesome.
Lynette pulled my shirt back down and picked up the cane, holding it the middle as Raylene had done, and passed it to me. She mouthed, "Duty calls." Silently. She was still amused.  
I turned and shook my head at Dorabella, who was at the other side of Rayleme's desk, holding Raylene's shoulders down. She'd been watching Lynette and me while we pressed bodies and mouths. Since Dorabella was the only person in the room who didn't want to fuck Lynette, she was no doubt relieved that Lynette's interest had switched. Anyway, Dorabella read my look correctly and nodded.
Raylene was to have no warning. I swung the cane, catching Raylene hard across the other stripes I'd already laid on the lower curves of her bottom.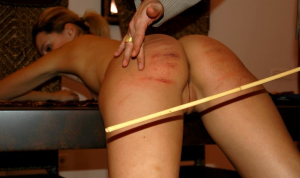 The crack of cane meeting softly muscled flesh was followed by Raylene's rising wail. Her legs kicked up, level with her body, and she fought Dorabella desperately to get up. She lost that struggle within a few seconds, and her toes touched the floor again. "Oh fuck oh fuck oh fuck oh fuck oooohhh…"
I knew I'd have to make the next stroke harder, to get the same reaction. So I made it harder. When Raylene settled her body again, she was still making that soft, almost mumbling cry. It was her pain song.
I gave her the remaining strokes at the same intensity, but she no longer reacted so dramatically. She was getting tired, and she was learning to take a hard caning. There was a kind of acceptance, which was deeper than the mainly verbal submission she'd given me to this moment. I wondered if she'd convinced herself that she deserved to be punished this severely, though she certainly didn't. 
When the last, penalty, stroke was delivered, I said, "that's it for now, darling. You've been very good, and very brave for me. I'm proud of you, little Raylene."
She was still producing tears, and singing her "oh fuck oh fuck" song, but she paused for long enough to say, "Thank you, master. And I'm sorry."  
"Good girl. My girl." I raised my voice, into public speaking mode. "Raylene is going to thank you for witnessing her punishment. And she's going to apologise to both of you for her rudeness last night. But she'll make her formaI apology at dinner tonight. Right now, though, I think I've got a girl who needs looking after. Ah?"
It was Dorabella, again, who caught on fastest. She leaned down and kissed her sister's forehead, then her cheek, and then walked to the door, bustling Lynette out with her. She said, "ok, we'll leave you two alone for a while. And look in later and see if there's anything you…"
Lynette said, "Need. Like cold cream?" She wanted to get back into the room. And maybe to get to apply it to Raylene's glowing ass and thighs. 
Raylene stopped singing "oh fuck oh fuck" and said, "I've got some. In a drawer. We're fine." She looked at me. I nodded.
"We'll see you guys later." I shut the door. I considered jamming a chair against the handle, in case Lynette thought of another way to get inside. The thought made me smile. I knew Raylene wanted to fuck Lynette as much as I did, and if Lynette was getting keen, and devious, that was no bad omen.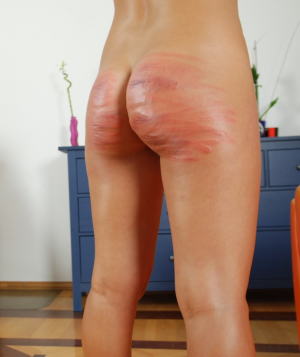 I took the cold cream from her top drawer, where it nestled against knickers and a small collection of vibes, I helped her rise, though she moaned when she straightened up. "That hurt, master. Oh fuck, that hurt so much."
It wasn't an accusation. And we kissed. I grinned at her. She looked puzzled, but she couldn't see how bedraggled and woeful, and how triumphantly sexy, she looked. Oh well: I had plenty of time to tell her.
"Girl. Lovely brave girl. Mine."
"Yes, master."
"Bed."