Lynette was first in the room. She stood at the door for a while, watching Raylene's ass as she joggled and ran on the spot, lifting her knees high. Then she looked at me. 
"That's to prevent bruising, is it?" 
"Yeah. And reduce swelling." 
"Hah!" That was Dorabella, looming up behind Lynette. She was looking at my cock.
I glanced down. I was in swollen condition, that was pretty obvious even through my jeans. "Okay. I meant reducing swelling for Raylene's ass." Raylene glanced at me. It seemed to be some sort of warning. Maybe I was saying her bum looked big, wearing nothing but cane stripes. "But it's not universally effective, no." 
Lynette said, "It affects me. I – No, never mind. This conversation has gone south. Really south." 
Dorabella was still staring at my cock. I'm a short stocky guy, and that's about the best you can say for my looks. But for now I was a sex object. That doesn't happen enough for me to get sick of it. So I smiled at Dorabella, and at Lynette. No reason. Just happy. 
But Raylene, still jogging on the spot obediently, was starting to breathe hard. I said, "Raylene."
She stopped. Her breasts stopped a couple of seconds later. I waited that couple of seconds, because that was beautiful and distracting. "Good girl. You're doing well, Raylene." She nodded, knowing that praise, though good, wasn't where I was going. "But I'm going to give you your second dozen now. Well, a dozen, and one penalty stroke. Baker's dozen."
She nodded again, face serious, as if some part of her believed this was fair and right. I said, "So I want you to bend over the desk again now. Same position. Same conditions: don't get up or you'll be in trouble."  
Dorabella and Lynette walked all the way into the room while Raylene said, "Yes, master," and pressed the tops of her thighs against the edge of the desk before leaning forward and lowering her body to rest on the cold, cold wood.
Dorabella looked to me, once her sister was back in place. "I still hold her down?"
"If you know what's good for you." Dorabella sniffed, not sure if I was kidding. Nor was I.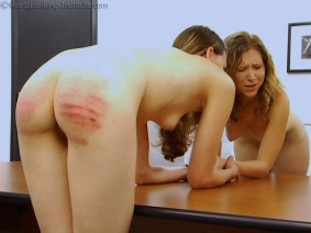 Then I decided that I wasn't kidding. If I gave Raylene extra strokes for getting up, I'd tell Dorabella she was getting the same, and to drop the robe and bend over on her side of the desk, facing her sister.
I'd had hints from Dorabella, and maybe it was time to put her on the spot.
I'd look stupid if she refused, and I'd just have to back down as gracefully as I could. But I figured I should try, and leave Dorabella to flip the coin. If she obeyed, she'd get three strokes and then the attention would go back to Raylene. But that would give her plenty to mull over until our time tomorrow. Anyway, Dorabella wasn't going let Raylene get up, so it was likely to be a hypothetical problem. 
While Dorabella took her place at the other side of the desk, hands pressed firmly down on Raylene's shoulders, I passed Lynette my phone again. "Filming duty." 
"Yes, sir!" The "sir" was mockery, still, but I didn't mind. Irony isn't as powerful as some people think. Lynette took the phone, activated the camera, and then filmed the front of my jeans. I snorted laughter, and after a second so did she. She switched to focus on Raylene's ass.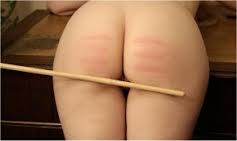 I tapped the cane against the tops of Raylene's thighs. This second dozen would give more attention to her thighs. It seemed only fair.
"Straighten your legs, Raylene. Bit further apart. Better; good girl. Now get your ass arched up."
While she complied I tapped the cane against the same place at the top of her thighs, but a little harder so that she winced, and a new, pinkish stripe formed. 
Then I raised the cane. "Okay. Second dozen. We begin."