Note: The previous episode is here.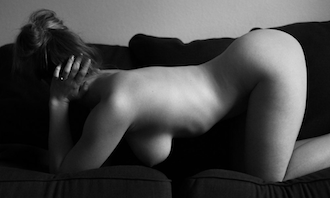 Stephanie waited, naked, on my floor, her face, her outspread arms and her breasts touching the carpet, and her ass up and poised.
It's just about the sexiest position a woman can assume. Nothing says, "I need to be fucked," like lordosis. 
I bent down and touched her hair. I said, in my softest, gentlest voice, "Good girl." Stephanie grunted. She was in the state of mind in which "Good girl," was a comfort.
Then I pulled her hair, medium hard, to remind her who we were being to each other, in that room, and while she sighed, taking that in, the knowledge that she was a girl who got her hair pulled, I lowered myself to the floor behind her, my knees between hers, my cock pressing urgently against her sweet and very wet cunt.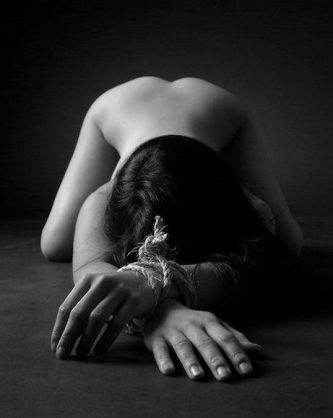 I didn't move, though. Stephanie's hips made little micro-movements of need, wanting me inside her. But she knew I didn't want her to rock her ass back and take me.
It wasn't that she knew I'd punish her if she did, though I certainly would. It was that she liked this game and she wanted to be good. And maybe be called 'good girl' again.
So we stayed like that, Stephanie waiting, presented for fucking, being tormented.
I was tormented too, of course, but I knew when it was going to and. Or begin. 
I said, "Keep still. That's a good girl." It was so difficult not to take her immediately and hard. In one thrust. I let another minute pass, caressing the sides of her breasts, and moving my hands up to hold her, firmly, by her hips. Then at last I moved forward, letting the head of my cock touch slick, wet, needy cunt, and a little further forward so her lips parted for half of the head of my cock. It was like being kissed in welcome. Stephanie made a sound that was close to a sob, then sucked in her breath. She knew she still didn't have permission to move.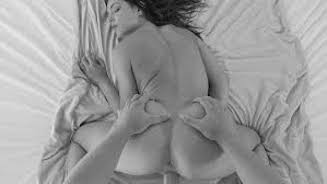 I mentioned at the start of this story that I'd known Stephanie for years. I knew her family, too. Stephanie was a spoiled girl. She'd never really needed permission for anything while she was growing up. Waiting for permission now, being obedient, was a new experience for her. Clearly, she was finding it hot, in this context.
I said, "Stephanie." 
"Yes. Jaime?" 
"You can rock back now, and take more of me. Just the head of my cock. If you go further… Well, my belt's on the floor here. Understand?" 
There were a lot of things she could have said about that. But she took the belt threat without questioning it. She said, "Urrrrrnh."
I hoped I wouldn't have to use the belt. Not tonight; it wouldn't fit the mood. But her acquiescence to the idea in principle made my cock just a little harder. I think she felt that.
She moved back, very carefully, impaling her soft centre on me. My glans covered in her, held tightly, I squeezed my fingers, hard, on her hips. We'd wanted each other for years. It was something to savour.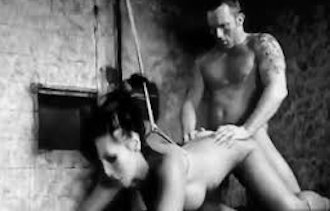 Then I raised my right hand and smacked her, just for the joy of it. I pushed further in, then back, half an inch back and one inch forward, each time.
Stephanie's face was turned, and her mouth was open. There was dribble on the carpet. Forward, then back.
Neither of us had any thoughts, any things to say.
I moved forward a little further, then back. Stephanie started to move now that most of my cock was in her, rocking on her knees, pleasuring herself. 
At last my pubic bone and stomach pressed against her ass. We were fully joined. I said, "Stephanie, you are good. And sweet. And beautiful. And…" 
She moved and I shut up. Suddenly, we were fucking as fast and hard as we could. My knees rubbed on the carpet, painfully, and I didn't care. She was going to lose skin too. 
The next episode is here.