The previous episode is here.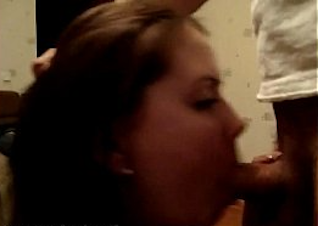 His cock still deep in my mouth, Sir kissed Lucy. She leaned against him, breasts pressed against his chest, and so of course it became a long, lovers' kiss. Was I jealous of Lucy? I don't think so, or not exactly. I liked that we both belonged to Sir now. And I liked that, below that fact, Lucy also belonged to me.
And I liked that they wanted each other, and they were kissing. Even though I had Sir's cock just then, I think I was just jealous that she was getting so much attention.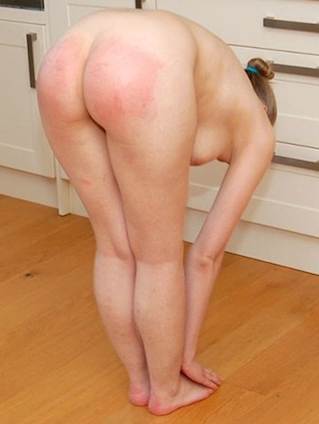 Sir must have felt something, because he pulled out, cock still pointing hard in the air. He said, "Maddie. Feet apart, bend over. Fingertips touching the floor."
"Yes, Sir." And I obeyed quickly, showing him I was a good girl too.
Sir still had had arms round Lucy and his hands on her pink little bottom, but he looked at me and smiled. "Can you touch your palms to the floor, Maddie?"
"Oh, yes, Sir." And I demonstrated. God, I was a supple girl then.
Lucy looked at me, and his hand cracked hard against her bottom. "Eyes to me, Lucy." She didn't answer, just made a happy noise and wriggled her body in even closer. "That's good, Maddie. I liked what that does to your bottom. But while you're waiting, you can just touch your fingertips to the floor. Oh, and eyes to the floor girl. Looking at your hands."
"Sir."
So I stayed in place, bent sharply at the waist, head down and bottom presented, too afraid to look up. There were flustered sounds from Lucy, then the sound of Sir's chair scraping on the floor.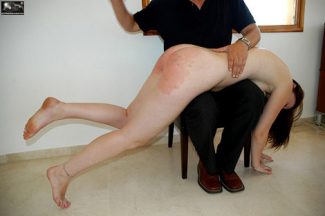 Lucy was giggling, then a hard smack on her bottom made her gasp. Then another, and another. She made a sort of moaning noise, now her spanking was proceeding in earnest. Her moans got louder as the spanks got louder.
It was harder, I think, than he'd ever spanked me.
And it went on. I counted twelve strokes, then twenty, then two dozen. Then three dozen. Lucy probably hadn't thought to count, but her moans had turned to little cries of pain. He was hurting her.
At the fiftieth smack there was a pause. Lucy probably thought it was over, but I guessed differently. I was right. The next smacks were slow and hard, and each got a high-pitched yell from poor Lucy. She was snuffling now, trying not to bawl like a baby.  Finally, at sixty, Sir stopped.
"That's a good girl, Lucy. Brave girl. Obedient girl." He'd be stroking her bottom, caressing, making her feel better. Lucy still snuffled, and moaned when his hands touched an especially sensitive place. Then there was silence. He'd be stroking her pussy, and Lucy would be trying to be ladylike in front of her Mistress. That attempt lasted perhaps a minute, and then she whispered, "Oh, Sir…"
A few seconds later, as I guess her whole consciousness narrowed down to the fire in her bottom and the sweet sensations in her pussy, she started murmuring, "ohsirohsirohsirohsirohsir…"
Then there was another loud smack, and Lucy made a surprised sound.
"Up you get, girl. Fetch me the cane, and stand close beside me while I cane your Mistress."
Then I heard him thank her, and the cane swish through the air, hissing, as he tested it. He was letting me know that this was going to be harder than this morning's caning.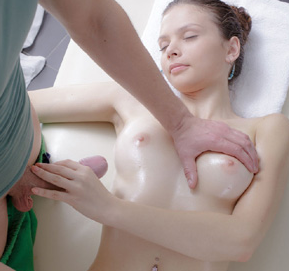 "Now, Lucy, I want you to take my cock in your hand. Can you– Ah! Good girl." There was another pause.
I dared not move, but I strained to hear them. Then there was a sigh from Lucy. I assumed he'd kissed her again.
"I want you to keep on stroking me, just gently, while I cane Maddie here. Maddie wants to be caned hard, doesn't she?"
He left a silence. Then I thought, Oh: that wasn't a rhetorical question. "Yes, Sir. I do hope it's hard. I think I want that."
"You certainly need it, little one. Now, Lucy, a thing you'll learn is that the more excited a man is, or a man like me, the harder he's going to cane. So I want you to pleasure me with your hand, while I deliver Maddie's caning."
"Like this, Sir?"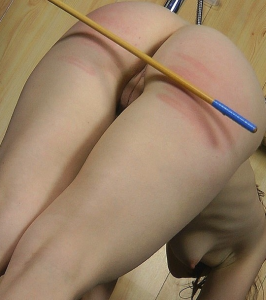 For once Sir sounded strained. "Ah, yes. Uh! Pretty much exactly like that. Good girl, Lucy. Have your fingers mainly running along the underside, and of course the head. Ah. Good girl. You keep that up, till I tell you to stop." 
"Yes, Sir."
"Right, Maddie. We begin."
And I felt the cane touch my bottom, lining up across the lower slopes, where it was bound to hurt most.
I felt passionate. I wanted this. I knew he did too.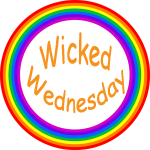 The next episode is here.