The previous episode is here.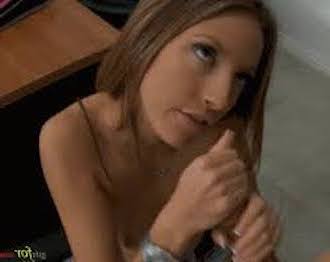 Lucy was stroking Sir's penis,that I was still getting used to thinking of as my Sir's  cock. He'd ordered Lucy to do that because he was determined not to take any of her virginities tonight. But her hand was fine.
He'd said that the more turned on he was, the harder he'd cane.
I don't think Lucy wanted me to be hurt, or not too much, but I knew her: it was her nature to do her utmost to please him.
So I waited, bent over with my fingers touching my toes, and that cane having touched my lower bottom, which I'd already learned hurt the worst, I knew I was in for a very hard, painful caning indeed. 
Sir said, "I want you bent tighter than that, Maddie. Palms flat on the floor." 
I said, "Yes, Sir," and moved my hands lower, then let my palms rest on the floor. Fortunately I was a supple girl; I still am. Yoga students and girls who get the cane regularly need to be supple.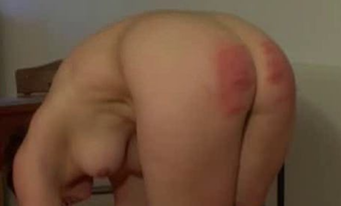 I could feel the way my body tightened. I was presented perfectly, from his point of view. My pussy felt terribly exposed, not just to his gaze, though I knew it was that, but also, in that position, to the cane. A really hard stroke could easily reach my pussylips.
I wondered if I'd be able to take that without getting up.
Sir said, "All right, Maddie. You know you're generally expected to take a caning in silence. If I tell you to, you can count the strokes aloud and thanks me for each one. I'm not expecting you to do that. Lucy's going to do the counting for you. So what does that mean, Maddie?"
My heart sank. "I'm not to make any sound at all, Sir."
"That's right, girl. Those are the rules. Do you think you'll be able to manage that?" 
"I… I don't know, Sir." 
"I have my doubts too. There's a choice for you, Maddie. If you accept two extra strokes, making fourteen, then I'll allow you to scream and squeal and carry on, so long as you keep still. If you don't take the two extra strokes, and you scream, then you get the stroke over. So, what's it to be?"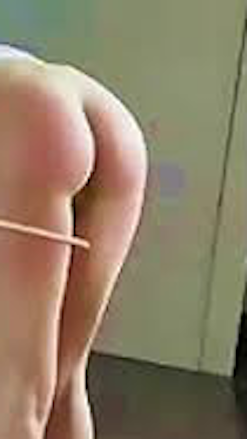 I felt the cane touch me again, this time on my legs, about four inches below the crease of my bum. Oh god. I whimpered. I knew that I'd get more than two extra strokes if the rule of silence applied to this caning. "I'll take the two strokes. The extra strokes, Sir." 
"I think that's a sensible choice. So that makes how many strokes of the cane you're due for?"
I felt tears slip from my eyes, down into my eyebrows, to get lost in my hair. I sniffed. "Fourteen strokes, Sir." 
"Good girl, Maddie. I still expect you to stay in place. Get up, and you'll get another twelve. Understood." 
I wanted to sob already. "Y-yes, Sir." 
"All right Lucy, A little bit slower, now. I don't want to come until I've got you two home with me. Now, Maddie." 
"Yes Sir?"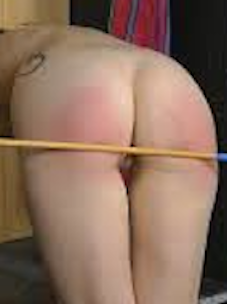 But he was warning me. I must have heard the cane swishing through the air, but I don't remember that. I only remember the pain and heat when it landed across my underbum.
It was so hard. I couldn't help it. I screamed on the very first stroke, though I'd sworn to myself I wouldn't, and my hips and bottom jerked convulsively. I only just managed to stop myself from getting up.
Lucy said, "One, Sir." There was awe in her voice.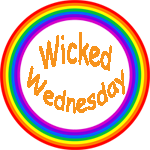 The next episode is here.