The previous episode is here. 
Even while my pain was building, I could hear Sir's breathing, with his mouth open, responding to Lucy's hand on his cock.
"That's lovely, Lucy," Sir said. "Keep that up." Lucy giggled, and there was a slap. Sir's hand on her bottom.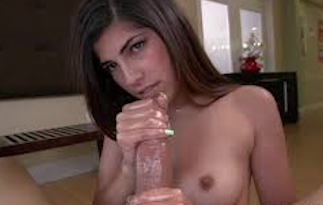 "The next time we find ourselves doing this, Lucy, you'll be using your mouth. Would you like to be taught how to please me best, when you're sucking my cock?"
Lucy said, "Oh god yes, Sir. Sir–" She stopped, uncertain.
"Yes, Lucy?"
"I want you to teach me everything. All the things there are. Please Sir."
"Ahhh, Lucy." I didn't dare look, but I knew he'd drawn her in close, holding her. They were kissing. Another time I might have wondered whether I felt jealous, but the burning pain iacross my bottom still held all of my attention. Lucy gasped: he must have touched her pussy, and then she made a little moan. He was stroking her. 
Then I heard Lucy stumble. He'd broken the cuddle and set her back in place. I imagined her hand, stroking the length of Sir's cock. I'd sucked Sir off, but I hadn't done that with my hands. Lucy got to do that first.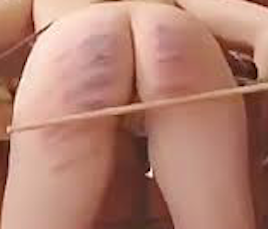 "Maddie." That was all the warning I got. Then the cane landed, hard, across my thighs. Usually I minded that my thighs still held a little puppy-fat, though I did my best to work it off, But in that second I thanked the gods that tiny bit of extra padding was there. I screamed again. I couldn't help myself.
Lucy said, "Two, Sir." She must have done something with her hand, because I heard Sir gasp.
"Oh Sir," I said. "It hurts soooo much."
"Don't speak again, Maddie. Now, I've marked out the top line and the bottom line of this caning. The rest of your strokes are going in between. It's going to hurt."
"Going to? Sir…"
"But I need you to be a good girl, Maddie. You've got an example to set for Lucy here. And I know you can do it. Bravely. Obediently. Like the best of good girls."
I smiled and sniffed. He cared for me. I knew that, but that reached me through all the pain. A second later the third stroke landed, a little lower on my underbum, perhaps half an inch below the first stroke. God, it burned.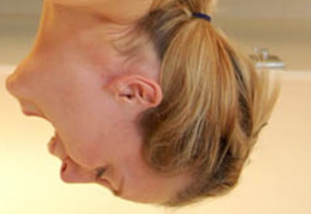 I screamed, and my hands left the floor. I wanted so strongly to clutch my arse, and rub it. But I managed to stay down, and I returned the palms of my hands to the floor.
Lucy said, "Three, Sir."
Sir said, "I'll pretend I didn't see that, Maddie."
I'd thought I was in trouble. I gasped, "Thank you, Sir."
"But if you were to rub your bottom without permission, or even take your hands off the floor again, you know you'll get extra. So," and his voice was icy now, "be more careful, girl."
"Yes, Sir."
He wasn't warning me any more. The next stroke was a little higher on my thighs. I screamed again, as the pain built, and then started to sob. I couldn't stop. Sir was punishing me, mercilessly. I also felt that he was making me his, when he marked me and hurt me, and some of the sobs were from that. It was emotion more than pain.
"Four, Sir."
Two more strokes whipped in, hard and fast on my thighs, each line a little higher than the one before. I was in agony, all through my body, and we weren't even halfway yet!
"Five, Sir. Six, Sir." Lucy was a little short-breathed. She was turned on, watching her Mistress getting punished.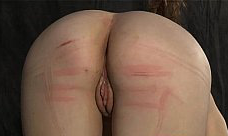 Then, with two hard strokes across my bottom, working their way lower, I was past the halfway point.
"Seven, Sir. Eight, Sir."
Just six strokes to go. But something had changed in me. I didn't scream for that last stroke.
I felt as if that girl getting the cane, Maddie, was very small and far away. In one way I was in the worst pain I'd ever been in in my life. At another level, I was only aware of how completely I'd given myself to him, and how entirely he'd taken me. I belonged to him, for him to do with as he wanted.
There was a kind of sweetness with the pain, all the way through my body and my mind, that I hadn't experienced before.And I knew we were going to continue, as my caning would continue, until I found my way entirely into that sweetness.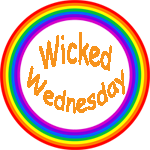 The next episode is here.