After school I raced to Sir's office, hoping to meet Lucy before she arrived. But she'd already knocked on the door, and Sir had called, "Come", so we went in together.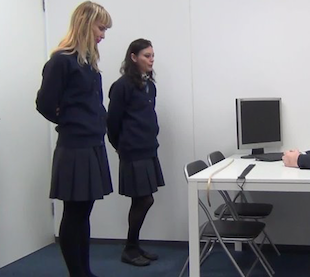 Sir was sitting behind his desk. I'd expected to see the cane there,like a badge of office and as a warning to us. But the desk was bare.
Sir smiled. "Good afternoon, Maddie. Hello, Lucy."
So we chorused, "Good afternoon, Sir." I looked at Lucy. She wouldn't look at me. I hoped she wasn't feeling feeling guilty, or silly, for giving herself to me.
I hoped she was just afraid of what Sir would think. I was about to tell him. "Sir-"
"I didn't ask for you to speak, Maddie. Take your clothes off, and go and stand and face the wall. Lucy, you stay where you are."
But I'm going to have to cut here, though. This has been published and my publishers don't want free competition from me. You can read it here.