Note: 
This story starts here. 
Stephanie and I are in the children's playground across the road. And Stephanie is bending over the top of the slide, so that her breasts and tummy are pressed across the cold, hard metal. She's only wearing sandals and a little pair of shorts. I'm only wearing a shirt and my underpants. In the spirit of fairness. Less fairly, I'm standing on the slide steps behind her, tugging those shorts down. 
Swinging 4
Stephanie reached her right hand back when she felt her shorts halfway down her ass, and the cold air breathing on new skin. I took her wrist in mine and pulled her arm a little to the left, so that she could feel helpless. Then I kissed her hand.
Stephanie said, "Ah-huh."
"Put your hands back on the slide. Below your head. Low as you can reach."
"And you'll spank me if I let go?" She wasn't asking for information. She knew that. She just wanted to say it aloud. I wanted to kiss her. But I couldn't reach. So I tugged the shorts, and her knickers down till they were bunched at the top of her thighs.
"Lift up for a second."
She did. I pushed the little bundle of shorts and panties down to her knees, then used my foot, on the gusset, to drop them to her feet. I did what any gentleman would and pressed myself her, cock hard, yearning, desperate to be in her, between the tops of her thighs, that sweet gap known to all as the inter-gracile, sub-pudendal fossa. We both sighed at the same moment. That felt good, and we wanted more of that, please.
There was just one problem. My condoms were in my wallet, and my wallet was in my jeans, and my jeans were, at Stephanie's demand, stuffed into the post-box back at my place. So the thing we both wanted most was temporarily not on.
We were both more than likely to be STD-free (small provincial university, general condom use, and the fucking Stephanie and I did involved a relatively small social circle), and under some circumstances lust would have led to us taking the risk. We were horny humans after midnight, not role models. But aside from the STD issue, I knew that while I could pull out before I actually came, at that moment there was no way I could guarantee not to leak seminal fluid into her.
Stephanie said, "Are you going to fuck me?" In the tone that meant: what in hell is keeping you?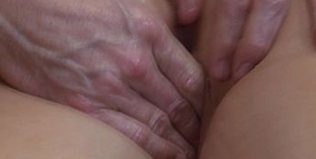 So I pulled back, and put my hand where my cock had been. And pressed up against soft, wet, girl-folds. I stroked her, fingertips just inside. Stephanie sighed, and turned her head, so her cheek rested on the slide. She was smiling.
I slipped two fingers along, not quite inside her, fingertips touching her clitoris, thumb pressing her asshole. I stroked, and Stephanie started to move against my hand. There were goosebumps on her buttocks and inner thighs. 
She moved her feet further apart, giving me better access. Her shorts fell to the ground; she was a naked girl on a slide, and nothing to be done about it if anyone happened along. I pressed against her as close as I could with my hand working on her cunt. Stephanie blew a lungful of breath out, and breathed in more quietly; breathing was something she'd forgotten about. She murmured, "Yeah…"
I stroked, my world or my awareness of it shrinking to my hand and her cunt, moving not quite in unison, sliding together, skin to wet, yearning skin. And speeding up.
After a time Stephanie pressed down on my hand, hard, and said, "Oh." I pressed a my thumb little harder on her asshole, and she opened. I moved my fingers in her, as hard and fast as I could as I could. Her feet left the slide, so she was supported only by her tummy balanced on the top of the slide. She shook her head, and grunted, deep and low. Her thighs clasped my waist.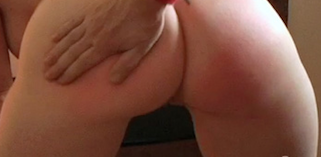 I kept my hand in her, and with my other hand smacked her bottom. Hard. Four times. Stephanie lay still, relaxed. It seemed that I had the right to spank her. Provided I used sound judgement. And kept her warm. I said, "Warmth."
And I set about stroking her, slowly again. I wondered how long it would take for her to come for a second time. We'd find out.
Note: The next episode is here.