Note: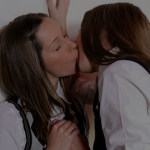 The previous episode is here. Maddie and her new friend Lucy have been making out in the little room beyond the school library. And Lucy, post-orgamically, has agreed that she'll do whatever Maddie tells her. And that Maddie should spank her if she doesn't. So those have become the terms of their relationship. 
Also, this is the 300th Wicked Wednesday prompt. And time to thank and congratulate Marie Rebelle for her running this meme! She gives a lot to the community!
Thank you, Marie!
Maddie and her girl
So I hugged my girl. Lucy: my property. It felt so beautiful: there was magic between us, and around us. She was more hesitant than me but after a pause she put her arms around me too. I realised that I had to do what Sir would do, and think about what she was feeling, and try to look after her.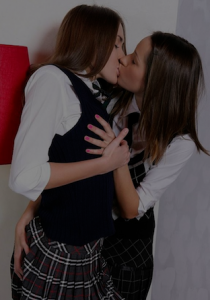 I said, "Sir's going to cane us both, after school. In three hours. Are you scared?" 
Lucy nodded, looking at the floor. I said, "I'll look after you. And he's… Not as strict as he pretends. Oh, the cane will hurt, both of us. But he doesn't want you to be too scared. Or for it to hurt more than you can take. If you pay attention, you'll notice he'll be looking after you too. He'll make sure that you leave with a nice stripey bottom, but you'll have reasons to smile, too." 
"I… guess. The spanking…" She stopped. She was embarrassed by what she had to say.
Then she said it. "Over his knee. When his hand was on my bare bottom, it did feel good. It was so hot. I knew I was turning him on. And he knew I was gushing. But the cane, that's a whole different thing, isn't it?"
"It's more dramatic. But it can be sexy too. Once you're rreally turned on it doesn't feel like pain at all. Or it does, but it's good. It feels… right."
"Is that how it is for you? When he canes you?"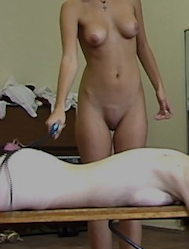 I kissed her again. I couldn't not kiss her: she was so pretty when she blushed. And she knew it. "Yes, little lovely." To shock her, I said, "And… he's not the only one who's going to cane you. I'll be caning you too."
Lucy looked at me, horrified. "What? This afternoon?"
Her eyes were so wide, her mouth open. I smiled and held her tighter. I kissed her again. She sighed and leaned against me. 
"No, silly girl. Not tonight. Unless Sir tells me to. I belong to him, remember, so what I do or don't do isn't entirely up to me. But I won't ask for permission to cane you this afternoon. Or tonight. I meant, when we're together, and you don't please me. I suppose I'd have to ask his permission, once you become his too. I guess we'd use his office, when I need to cane you, pretty Lucy." 
"He'd watch, wouldn't he?" The idea didn't seem to displease her. 
"I suppose he would. You have a lovely body, my pretty girl. I don't think he'd want to miss it."
Lucy smiled her little secretive smile again. "This afternoon I'm going to see you naked again. You'll be seeing all of me, for the first time."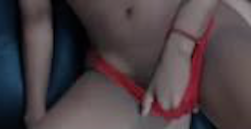 "I already know your body is beautiful, little Lucy." I put my hand on her pussy, and squeezed her lips lightly, then harder. The way I'd like it. 
The bell rang. I smacked her pussy. "We've got five minutes to get to class. He'll hear about it, if we're late. And…" 
Lucy opened her legs, hoping I'd finger her some more. But she was being naughty and she knew it.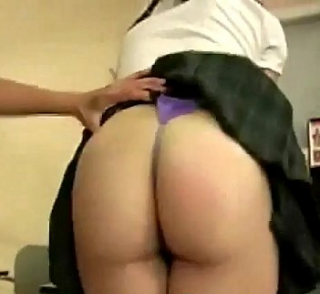 I raised her skirt at the back again, and for a moment admired her pinkness, from that morning's spanking. Then I smacked her, once, hard, so she hissed her breath in. I hoped there was no one in the library yet, to hear us. I'd have to leave it at one smack. 
"I can't punish you properly for that now. But I'll spank you properly, tonight. When we're at his place. For that." 
Lucy squirmed against me. I so wanted her. I wanted her breasts, bare, pressed to mine. I squeezed her bottom where I'd smacked her. Then I broke the hug. 
"That's it for now, Lucy. Straight to class for you. Now!" 
"Yes, Maddie." And she tugged her skirt into place, and opened the door. She looked back at me. And smiled, a little dazed. I was dazed too. But I made myself look stern. She was due at Math. I was due at French. I left her time to clear the library and maybe twenty yards of corridor. Then I followed her.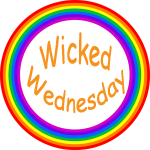 The next episode is here.