Note: This is a continuing story. The previous episode is here.
Stephanie had just sucked me off, sitting prettily and naked on one of the park swings. She'd just announced that that had been fun, and she wanted to do it again. I don't know about other men, but that wasn't an option for me. Not for a while. But even if it had been, I was pretty sure we should be leaving the park.
"There's a fifty-fifty chance that bastard called the cops," I said. "We should get gone now. If they do show up, this'll involve more explanation than I feel like doing. So, girl, home." I pulled her up out of her seat and smacked her bottom. Every time I'd smacked her arse so far I'd had a positive response, so I wasn't being careful any more. It was a lusty smack, loud enough to be heard across the park.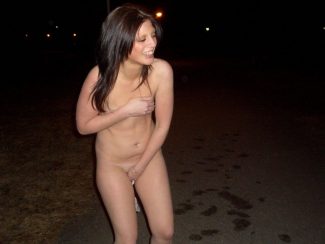 I liked the effect it had on her arse, and her eyes. She looked at me as if I were a marvel. I didn't think I was, but her gaze still felt good. And it made me want to try to be a marvel.
We walked to the road, till we were one step out of the light. Stephanie was naked. I had underpants and a shirt. And Stephanie's shorts in my hand. She said, "Er, can I have..?"
"Of course not. You run when– What's the signal?"
"You. You smack my bottom?"
I smacked her hard, then, and let her start first, so I could follow and watch her. There were no lights in the street on except at my place. The party was still going but it was quieter. I don't think anyone saw us.
When we got inside my gate I held her tight, rubbing her back and thighs briskly to get her warm. Her arse was already warm, but I couldn't help giving it plenty of attention too. We kissed, long, and deep. Stephanie sighed. She was having a strange, fun night.
I let her stand there, though, while I put my jeans on, and held her clothes in my left hand. I kissed her again, smiling wolfishly to let her know something terrible was coming. Then I smacked her again and led her to the back door. Someone had seized control of the sound system, and was playing old Cure songs. I reached for the door handle.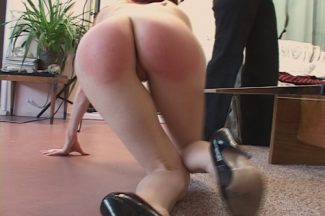 Stephanie said, "I can't walk naked to your room! People will see!"
"Oh, you won't be walking. Naked girl, well spanked, on her hands and knees, crawling to heel. No one's even going to notice. Well, they won't notice who you are."
Stephanie drew in a breath. Her face was already red, though not unhappy. I kissed her again. "Just do as you're told. You'll see."
Note: The next episode is here.