Note: This is a continuing story. The previous episode is here.
So Stephanie waited, bent over the apex of the slide, naked now, face pressed down against the cold metal of the chute, ass prettily presented for me. I slipped my fingers between wet, petalled folds, and began to stroke her again. 
Stephanie said, "Oh, I don't think I got anything more." But I just smacked her bottom again, because I wanted to make it clear that all sorts of things weren't really up to her for the time being, and that a second orgasm was one of those things. She laughed, for reasons of her own, and then sighed when I resumed working my fingers against sweet soft wetness.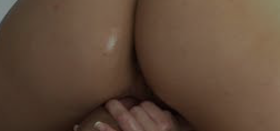 I put my thumb against her asshole and pressed a little, and got another sigh. So I kept that pressure, and kept the rhythm of my fingers in her absolutely steady, neither fast now slow, neither speeding up or slowing down.
In time, ina few minutes, her buttocks had clenched, and she was rolling with my hand,, and her vocal noises were still sighs, but higher pitched, enthusiastic sighs.
I said, "I have. More, I mean. I'm going to fuck you so hard, little Stephanie, when we get back."
Her foot twitched. She was no longer standing on the steps, letting her tummy take all of her weight. She made a nasal sound, and carolled, "fuuuuuuck!", partly in answer to what I'd said, and partly for other very good reasons. 
The sound she made when she came, that second time, was like the greatest expression of fear and grief you could imagine, except that it was clearly loudly and absolutely joyous. Her feet and thighs lifted clear, so that I had to grab her and hold her while she came, or else she'd have slid remorselessly down. 
Eventually she breathed a kind of laugh. "I didn't see that coming. Jesus!"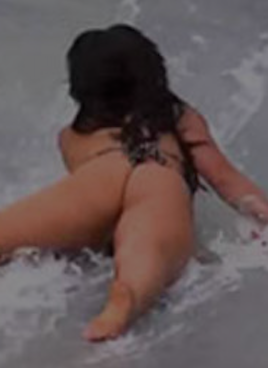 I said, "It's an unpredictable world, Stephanie." And, because I had her legs in my hands, and she had no more orgasm for now, I pushed her, like a double javelin, down the slide. Stephanie said, "Yiiiii!" And there were whioops of indignation and laughter, while she hurtled facedown and naked, on that chilly metal chute. 
I didn't follow, though I wanted to. I climbed back down and picked up her discarded shorts and panties. Stephanie, now getting up from the level bit at the slide's end, called out to me, "You utter, utter, utter, utter bastard!" 
And then a light went on, from the house nearest to the playground. People were stirring. We'd stirred them. 
Note: The next episode is here.