I was at a munch a while back. I got into an argument with a guy who was a strong Liberal Party supporter (the right-wing party here, currently in government) about economics. He supported tax cuts to the rich, eliminating government involvement in the economy,  and so forth. He said these were classic Adam Smith ideas.
I've read essays about Adam Smith, which said he wasn't simply a neo-liberal monetarist, but envisaged something a lot closer to the welfare state that his followers are busy dismantling.
So I argued that those aren't actually a set of policies that Adam Smith would support. Our argument got a bit obscure. I'd say I lost, actually. I haven't read Adam Smith directly, and he'd read The Wealth of Nations, so I couldn't cite chapter and verse. I'd have been better off arguing that that tax cuts to the rich, and so forth, are terrible for the economy, because they make most people too poor to buy the extra things that keep the economy going above subsistence level. But though that's true, the munch was a social occasion, and people tend to get angry when you get on to topics like that. So I picked the more academic issue.  
Anyway, most of the other people at the munch disliked the government, but mainly because it's been pandering to the Christian right on gays and lesbians, funding to Christian schools and paying for Christian activists in non-Christian schools. That sort of thing. So our economics argument was boring, and they politely ignored it. 
From my point of view politics is mostly about economics: you need to tax those who can afford it so you can provide government services that make life better for everyone, especially health, education, welfare, public housing, and necessary infrastructure. Businesses do better where there's a decent level of social infrastructure in place.
Other issues, even including things that I have passionate feelings about (for marriage equality, and against censorship, for example), are important, but less important than whether people can get jobs that pay them enough to live on, and get wage increases.
So that's my politics. I'm largely socialist on economic issue, and pretty much anarchist on social and sexual issues. Anything sane adult humans want to do with other sane, consenting adult humans is ok with me. People having the right to say or write or hear or read what they want: that's ok with me too.
(Racist, sexist, nasty, and generally horrible speech should be countered and mocked, not suppressed. Happy to argue that, in some other post, if people want.) 
As a bdsm pervert, I sometimes get annoyed by writers, especially those involved in pseudoscientific schools like psychoanalysis, making grand statements about the politics of people who take part in bdsm, or want to. The gist of those sweeping claims is that we're all Nazis. We like leather boots and dressing in black: so did the SS! Case closed!
That gets old, and it was irritatingly silly and insulting the first time.  
As far as I can see, we people who involve ourselves in bdsm, or dream of it, cluster to the centrist left. There's never been a research project on how people who do bdsm vote. So I can only base my claim on anecdotal evidence like my munch, and some logic.  
First, as I've argued before, turning power into a toy of erotic play is inherently subversive. It undermines power, and refuses to take it "seriously". Power in bdsm doesn't go to the man, or to the richest person. It doesn't go to the person with the most impressive job or title. Power goes where cocks and cunts want it to go. and only stays there while the people involved are sexually pleased by that arrangement. Power in bdsm is sexual, it's voluntarily given or assumed, and even if the play raises welts or draws blood it's playful.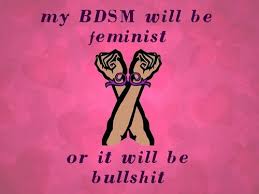 Bdsm culture emphasises informed consent. I think that emphasis is the reason why people who practice bdsm are, research studies have found, notably more sex-positive, more aware of consent and less sexist than the general population. 
We are more likely to be in the sex-positive feminist or feminist-supporting faction.
BDSM eroticises voluntary power differences, but it also eroticises consent. There is nothing hotter, to me, than a submissive's bowed head and "yes, Sir".  
Still, apart from general social and sexual liberalism, I'd guess that people who do bdsm aren't, in general, far to the left or right of the rest of the population. Thpough we're more likely to be in the anti-authoritarian faction of the left or right. But bdsm doesn't force people into any political box.
Feminist women in bdsm may reasonably feel irritated when other feminists insist that their politics must be anti-feminist because of their sexual needs and choices.
So bdsm people are more likely to be liberal than authoritarian about sex, because authoritarian sexual attitudes are likely to do us harm. There may be a general lean to the centrist left on other issues, too.
Otherwise there's no clear intrinsic political bias to bdsm, whose practitioners may be radical, conservative or entirely apolitical. People practice their bdsm, and their politics, as they do other things, according to their beliefs and the kind of people they are.