The previous episode is here.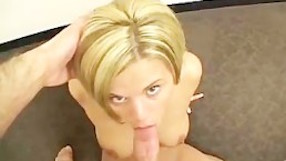 Sir pushed his cock into my mouth and put his hands on the back of my head, grabbing a handful of my hair in each hand so I couldn't move my head back. I'd been reading up on techniques for driving a man crazy while I'm sucking his cock, but Sir wasn't interested in me being clever.
His cock pushed into my mouth and into my throat, iron and insistent. He held me still while his hips pumped, driving into my mouth, into my throat. I'd read about this: he was fucking my throat, hard, for his own pleasure.
I felt utterly helpless, used, my mouth battered. It seemed to go well with the burning cane stripes across my bottom. I was still naked. He could see my stripes when he pulled me forward. The thought that I didn't matter except to give him pleasure was so hot.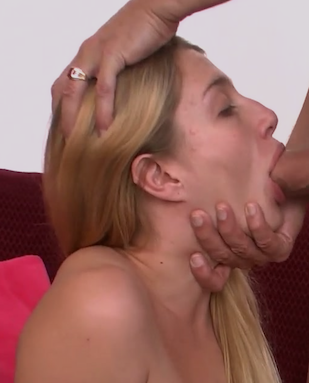 I gagged sometimes, when he went as deep as he could, cock down into my throat, but I couldn't feel anything but the hotness of what he was doing to me.
I wasn't doing anything: I was being done to, being fucked in the mouth. I liked that feeling. It said that I was his and it seemed so right.
It was only later that I realised that when I gagged he'd carry on pumping his cock into me, like a piston, for a few more strokes while I gasped for air.
But then he'd take his cock out a little further to let me catch my breath, and though he'd push back into my throat as deeply as ever, he'd be slower for one or two strokes before going back to his usual speed.
At last he smacked my face, once, twice, hard enough to echo in the room, and I felt his stomach muscles harden. Then his cock moved in me faster than I'd thought possible, and with one more smack – I was sure my right cheek must be as red as my bottom, or Lucy's – he spurted a great gush of his come into me.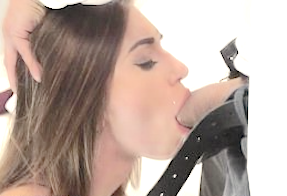 I swallowed as fast as I could because I already knew that's what good girls do. He growled like an animal, and I was exhilarated by how happy and content with me he sounded.
His cock was still hard in my mouth, but no longer moving. His hands released my hair and stroked my head gently.
His cock felt so heavy in my mouth now he'd relaxed a bit. So fat, and happy. At last he whispered, "Good girl, Maddie. My good girl."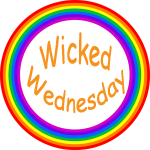 The next episode is here.