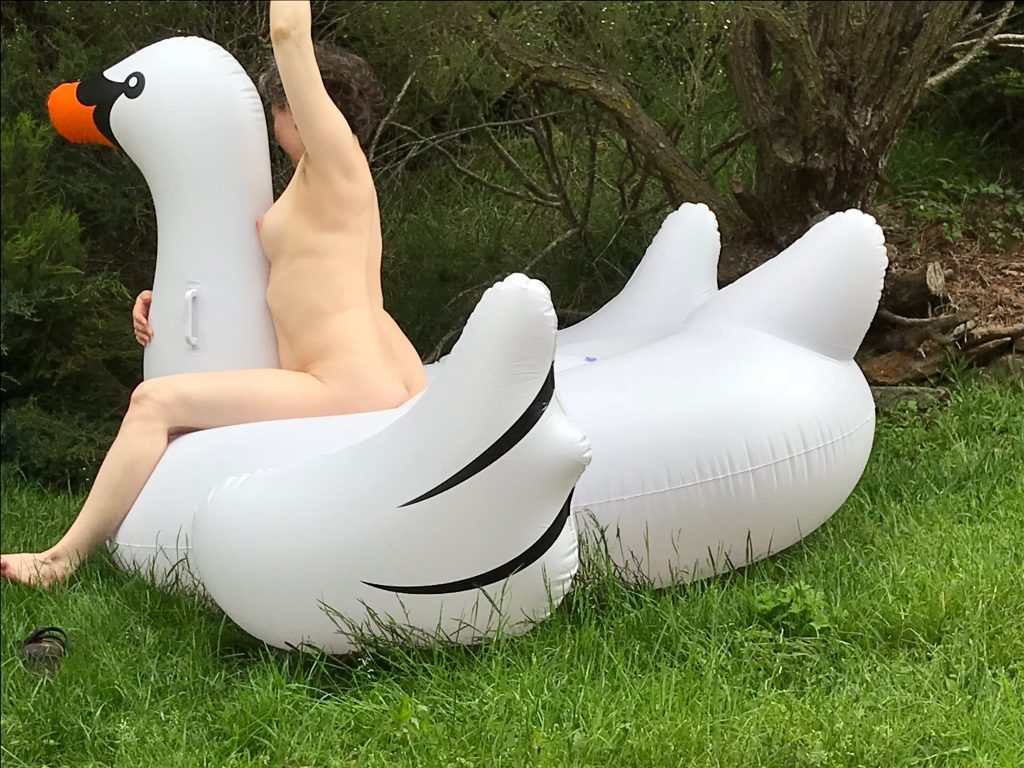 This is going to be a series, about the weird sexual mythology surrounding swans and humans. There's the swans in Swan Lake, who finally take on human female form. 
But the most famous shape-shifting swans are male. They include Zeus, with Leda, and Gottfried, brother of Elsa von Brabant, who in swan form carries Lohengrin, knight of the Grail, from Montsalvat in Northern Spain to one of the rivers that passes through Brabant in what is now Belgium. (Frankreich, back then.) That's an epic journey for a river-based creature, and someone should write an opera about it. 
One interesting thing about swans is that they have penises, unlike most birds.
Anyway, with the help of my lovely model, and Amazing Special Effects, my Sinful Sundays are going to be taken up for a while with stories and poems about the whole human-swan connection.
Take it away, Mr Yeats!
A sudden blow: the great wings beating still
Above the staggering girl, her thighs caressed
By the dark webs, her nape caught in his bill,
He holds her helpless breast upon his breast.

How can those terrified vague fingers push
The feathered glory from her loosening thighs?
And how can body, laid in that white rush,
But feel the strange heart beating where it lies?

A shudder in the loins engenders there
The broken wall, the burning roof and tower
And Agamemnon dead.
                    Being so caught up,
So mastered by the brute blood of the air,
Did she put on his knowledge with his power
Before the indifferent beak could let her drop?