Claire shook her head, panicked, mouth still full of hard male essence. I said, "Maddie has heard you get the strap. She knows you're going to get the cane soon. She's knows that afterward I'm going to fuck you with all my heart and soul, not to mention my cock. So is it a problem if Maddie knows you suck my cock?"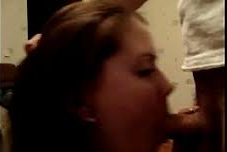 Claire was still, digesting this. After a few moments her head moved again, from side to side, my cock still firmly in place. No, it didn't matter. I put my hand on her head. "Continue, Claire. Or I'll strap your hands some more. You can get the strap while you suck cock, you know."
There was a pause, probably as long as three seconds, though it felt longer. Then Claire took me deeper in her mouth, sucking hard. Her blush had spread to her breasts and shoulders. She'd accepted that sometimes she sucked cock in front of an audience. Maddie said, "Sir?"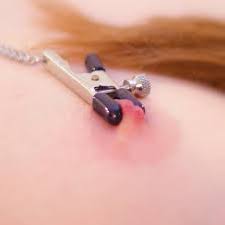 "Nipple clamps. Fetch. Claire needs them."
The nipple clamps were Maddie's. They weren't for use on schoolgirls. Or boys, I supposed. She went, leaving the door open, and fetched them from her drawer. "Sir."
"Don't stop sucking, Claire, if you know what's good for you. And Maddie, Both Claire and I have our hands full just now. You can put the clamps on Claire's nipples."
There was a small dissenting sound, and a shake of her head from Claire. I put my hand on the back of her head.
"Claire, you know you can stop this at any time. But if you don't want to stop, then you're going to be wearing little clips on your nipples until I've come in your mouth. I noticed your reaction when I squeezed your nipples before."
Claire said, "Ummmm, bbdddd…" A little line of drool escaped from the left side of her mouth. Then she moved forward, taking the whole of my cock into her mouth and throat.