So, whatever Lynette said next, it was clear that just after midnight she was going to join Raylene and me in Raylene's bed. What she said was, "Maybe. We'll see."
"Well, up to you. You've invited, and we'll be, um. Welcoming. Happy to see you. Specially Raylene. No, or especially me. Both of us, anyway,"
But I wasn't trying to persuade her any more. That part was already done.
I just didn't want to irritate her by being smug about it.
Then I pulled her back towards me and held her crushingly tight, the cane in my right hand casually pressing her left hip. We went back to kissing, tongues and teeth. I'd cleaned mine. She hadn't. It didn't matter. It didn't matter that I knew she wasn't wearing knickers. The kiss lasted a long time. Eventually she looked up and saw my face. "Smug bastard."
"Not smug. I don't think I am, anyway. Just happy."
"Huh." Kissing resumed, whether I was smug or not. I thought about Dorabella: would she join Lynette, Raylene and I, and make it a foursome, or would she want to do me a bit later, with Raylene only? I had no idea which would be better.
Anyway, I squeezed Lynette's arse, then walked the fingers of my left hand over some pressure points, pressing as I went. That felt good, apparently: she straightened her back a little. So I smacked her, very lightly. An experiment. She didn't react. That was the best I expected, so I filed the information and didn't repeat.
I wanted to make her apologise for what she'd said about me wanking sadly in the next room while she and Raylene fucked. I thought that apology would go best if she was naked over my knee and I was looking down at her well-reddened arse, and about to start on the backs of her thighs.
I didn't speak that thought, and though it turned me on I was already pressing my cock, hard and super-sensitive, against her. She can't have noticed any change.
I broke the kiss. "Um. Lynette. Can you watch a sexy girl take her first caning now? I mean, will you be ok with it?"
"Ah, it's a sex thing. It's not my sex thing, but I know it's Raylene's. And yours, you pervert. So I can take it."
"Some of the strokes are going to be hard. It has to hurt or Raylene won't feel right about it. I'm saying, you know: it could be confronting."
"Hah! Trigger warning! Look, I'll be OK. I'm not going to grab your precious cane and break it it. I'll know what I'm seeing."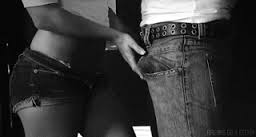 I nodded. "That's good enough. And I'm glad you're here. Raylene is too."
Lynette unexpectedly reached between us and touched my cock, forefinger and thumb through denim. I said, "Uhh." And, a little later, "Ahh. Lynette. Oh fuck." Then I just gasped for breath, open-mouthed. 
"Guess I haven't completely lost my touch."
I put my hand on her ass. It took all the will-power I possessed not to make it a smack. "Well then. Shall we join the ladies?"