Obviously, lots of people love oral sex without being at all interested in bdsm. I even suppose it's possible to be into bdsm and not care much about oral sex. They're not the same thing.
On the other hand, when oral sex happens in a bdsm context and framework, it adopts bdsm symbolism and meaning very, very easily and naturally. The partner on their knees, busy licking and sucking, serves their dom's pleasure. They've got no guarantee of sexual release or even reward for themselves, except the pleasure of pleasing.
Almost no adjustment is needed to make cock-sucking or cunt-licking into a supremely submissive act.
Still, when a submissive girl is sucking my cock, I do a number of things calculated to emphasise to her just how submissive she's being.
If I'm coming to visit her, or she lives with me and I'm coming home, I'll let her know it's time to start waiting. That means she has to get naked and kneel facing the front door with her mouth wide open. I let myself in with a key. I don't tell her exactly how long she has to wait.
But once I'm there, time shifts from endlessly slow to ruthlessly fast. I'll have my hand in her hair and my cock in her mouth, fucking her throat, before we've said hello. I'll be fully dressed,and standing, just to heighten the contrast between her abject status, and my status as the free, clothed, standing man who owns her.
Usually, especially when I'm standing above her, I'll take my belt out of my pants, and let the leather hang over her shoulder, down to her bottom. That, again, is to remind her of her status.
Usually she'll already have been told that she needs to devote her full attention to pleasing me when she sucks my cock. Because if she lets my cock slip out of her mouth, or if I feel that she's not trying hard enough, then I will whip her back and her ass. 
I'll have explained that failing to serve me properly when I'm already excited has unusually harsh consequences. Not because of justice but because of my excitement.
I'll use the belt on her harder than I usually do. After a couple of times through this ritual, she will have learned that this is true: she does her best to please, or her ass, back and sides will take my belt until she's very, very sore and sorry.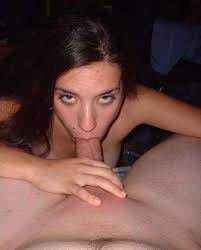 There's another thing: eye contact. The eye contact thing seems to have come out of internet porn. I've mostly never cared where the submissive was looking when she sucks me. I'd expect that she was usually looking at my shoes, or my inner thighs if we've gone to bed together, or she had her eyes closed. But porn taught submissive women to look up, making adoring eye contact while they pleasure their dom. Submissives in turn taught me to expect it. I decided that it's hot, and now I require it. I punish any breaking of eye contact. 
More to come on oral sex and bdsm.