I ate with a lot of pantomimed enjoyment, and didn't give her any. At one stage she made a stab at one of the mushrooms with her fork, and I threatened to smack her bottom. But it was an empty threat and she knew it. We were less intense now, and I'd lost the Qing-hurting privileges she'd granted, and loved, only a few hours earlier.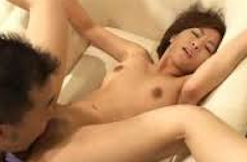 Finally I pushed her onto her back, and buried my face between her legs. Qing was tense, I guessed uncertain whether this counted as sex, and whether I should be rewarded at all, since the great breakfast power struggle was unresolved. I licked around her clit, occasionally touching it directly with my tongue, and she'd jolt as if I'd connected her to the mains. And she forgot to keep her thighs tense.
I popped the last black mushroom, palmed from my bowl, into her mouth. Qing chewed it noisily, as if it were victory. I felt ridiculously proud. Every so often I get a girl thing right.
(It wasn't victory, because I'd got access to her cunt without her getting any of my breakfast. Once she'd ceded that I could afford to be be magnanimous. These are things no sensible adult cares about, but people in the middle of sex aren't remotely like sensible adults. A trivial clash of wills, with neither side prepared to step back a millimetre, can kill sex stone dead if it's badly handled. Anyway, within the game Qing had described, I thought I'd won and yet she felt she'd won. So we both felt smug and happy, for different reasons.)
In oral sex it usually seems – and usually is – that one person serves and the other is served. That could be why it's so very popular in bdsm, and why male doms tend to be so keen to get their submissives onto their knees with a mouthful of cock.
There are doms who say, "on your knees, bitch" at the stage most people, dom or not, would say something like, "Nice to meet you." From what submissives have said to me, they think those doms are hilarious. Still, like sending dick pix, it must work occasionally.
But it's different when a dom, male or female, wants to do their submissive with their mouths. Doms don't feel they're serving; what they feel is being in control. The submissive is the dom's tongue-puppet, helplessly driven to orgasm or denial, or to distraction, as the dom chooses.
I'd have no doubt, if Qing was sucking my cock, that I was in control. But as I tongued her I was still in control. My horizontal mouth teased and deep-tongued her vertical mouth while she writhed and moaned, eyes tightly closed. 
But the tension between us suddenly slackened, and she stopped. She made a questioning sound.
I said, "Yeah?"
Qing sat up a little. "Tha' thing. The thing you di', we did before. Up my ass?"
I was close enough to her cunt, still, to kiss it. I hoped it wasn't goodbye. "Uh-huh?" 
"Coul' we? Will you fuck my ass again? I -" She thought better of whatever she'd been going to say. "Fuck my ass again. Can we? Can you? Hunh?" 
Those were her exact words. You don't forget the first time a girl spontaneously begs you to fuck her ass. I smacked that ass. No special reason, except that it seemed that my powers, including my right to hurt Qing, were back. I felt like celebrating.
"About time, girl. Roll over."