In the morning Seamus was awoken by Asuka's mouth on his cock. He relaxed, letting his arousal build slowly, his cock slowly engorge while his girl pleasured him. And Yua came up, brushing his chest with her nipples. Then she kissed him, and Seamus brought his hand down on her neck, holding her to him while he thrust slowly, almost lazily, into Asuka's mouth.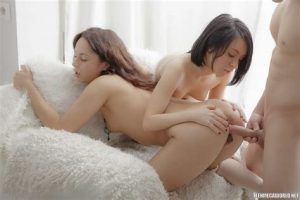 Yua kissed him again then raised her head and looked down at him. "Fix me?" Seamus frowned, not understanding her. Yua said, "Your cock is busy. But…" She kissed him again. Then she raised herself onto her knees, and planted her perfect little pussy onto his mouth, vertical lips to horizontal lips.
Seamus smiled, and Yua felt it, squirming wetly against him. So he reached up and held her butt still while he tongued her. Yua began to make a noise, low in her throat, two notes, over and over, "Ooo-ah-ooo-ah-ooo-ah…" It reminded him of a cat purring, and he reached his fingers between her buttocks and pressed one finger, then two, into her little asshole. Her song raised in pitch, and her pussy pressed down on his mouth, pushing into him, and moving faster. 
As Asuka sucked him harder, ruthlessly taking and tasting his cock, he felt himself needing her and he thrust up into her harder, no longer holding back, fucking the girl's mouth and throat. He wasn't concerned for her comfort. He knew that Asuka wasn't. But Yua arched her back, knees on his shoulders, pussy on his face, and wailed, and he pressed his fingers further into her asss, until she stopped suddenly, her body utterly tense, and she cried out, something both happy and lost, joyous and forlorn.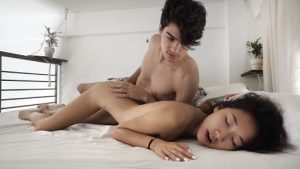 That was too much for him. He hammered thrusts into Asuka's mouth, for another intense and tumultuous minute until he came, copiously into her mouth. Asuka sounded like a girl whose pet has performed a very clever trick at last, and she sucked and swallowed him.
Eventually, as far as he knew, she had taken it all. Slowly they relaxed. Yua fell sideways off him, then returned to hug him, lying beside him, and Asuka kissed his cock goodbye, and came up to jin him, facing Yua from the other side. He kissed them, each in turn, and said, "Asuka, you haven't come yet."
"I'm very happy, sensei. I don't care. I think I felt your orgasm. That was … like it was mine."
Seamus considered that. "That's a nice thing to say, little seidorel. But I should probably beat you for lying. You need to come now."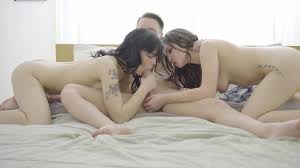 Asuka tried to look unconcerned. "I just need your come. All the time."
Seamus looked at Yua, clinging limpet like to his side. "We're going to make her change her mind now. Aren't we?"
Yua looked at him, then Asuka. Then she looked back at him. "Oh no, sensei. She's a bad girl. No come for her."
Seamus raised his brows. "This is the weirdest insurrection I've ever known. That I've ever heard of. But I think I can fix it." He looked at the both of them, while they stared blankly back at him. "Fetch the cane …" He looked at Asuka, then Yua, trying to decide which girl needed subduing first. At last he said, "Yua."