My honeygirl, she holds her sparrow to her breasts
And plays with it, all greedy, it's her delight
she pets it with her little finger, gives it a tweak,
hoping it'll give her a sharp bite.
When my glorious desiregirl is moved
to play with a little thing she loves, 
I guess, when hard passion's done and down,
It can give her relief and lift her frown.
I wish I could play with you like she does,
And ease her mind and all its woes. 
That translation's mine. But that's just vanity on my part. There's no shortage of Catullus translations.
Anyway, there are people who say a sparrow is just a sparrow. But the imagery of the sparrow poems is too sexual for that to seem likely. And when the sparrow dies, Catullus calls on Eros and the Amors, the little gods of love, to weep for it. If it was just a dead pet sparrow, Eros wouldn't give a hoot about it, or a twang. 
There are people who say it's Catullus's cock. I'd thought so when Svitlana took my cock and balls in her hand and cradled them like a pet. That happened in "One swallow doesn't make a spring #20", which you can find below. Svitlana's gesture, playful and loving, though we were more or less strangers, reminded me of Catullus's sparrow poems.
But I went through the process of translating them, expecting to find a poem in which a woman lovingly handles her man's cock. I thought there'd be submissives who'd like the imagery, and the sense of being in a cock-cradling tradition over 2,000 years old. But as I went through the poems, I realised I was wrong. 
The sparrow is Lesbia's cunt. She plays with it when Catullus is worn out and has no more "hard passion". She puts her little fingers in and it bites, or at least the lips close on her finger. And Catullus would like to play with it too, until he gets his passion back. 
So what does it mean when her cunt "dies", in the second sparrow poem? First, it's possible that the death is the proverbial "little death", and it's a mock elegy on Lesbia's orgasm. I can't actually remember an example, in Latin literature, of the idea of orgasm as a kind of small death, or at least a shut-down of the body, but it's certainly an old idea. If I can find an example from the right historical period, that would be useful. 
Second, it's a prefiguring of the death of Catullus's and Lesbia's love. Her cunt becomes, in a sense, "dead to him". 
One piece of support for the idea that Lesbia's "sparrow" was her cunt is that Catullus uses the Latin word "passer". This means any small bird, and not necessarily a sparrow. But "passer" also has a slang meaning, though we don't know how old this slang meaning is. In Italian "passera" means both little bird and "vagina". Did it mean that in ancient Rome too?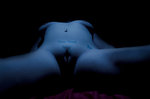 Here I'm just going to guess, and say that some slang terms, like the ones for genitals, don't change much, or at all, over time. So "passer" probably did make Catullus's readers think of cunt. And sparrows too, of course.
Anyway, Lesbia's sparrow was well worth her time, and Catullus's.