Description
Lucy and Fetu 1:  Lucy's Got a Brand New Bed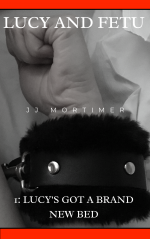 Lucy loves her Mistress Fetu, and Fetu loves her slavegirl Lucy. They live together in a tiny town in the shadow of New Zealand's Mt Taranaki.
They're very happy together. Except that Lucy wants her mistress to tie her up sometimes, so she can feel helpless and let things happen to her, with no choices. However, Fetu is reluctant to put her girl in bondage. She keeps her reason secret. 
Can Lucy persuade Fetu to overcome her fears and help her girl have the pleasures she longs for?
Only $3.50!
Preview!
Lucy said, "I want to feel held down, Mistress. Held in place, by ropes. If you put them on me, it'd be like a caress."
"You don't have trouble staying in position, Lucy. Even when I cane you." There was warning emphasis on those last words. Lucy heard it, but this was important.
"No, I don't find it hard to stay where I'm told. Even when it hurts. I want to obey you."
"And I love that, fluff. When you stay in place and there's nothing stopping you getting up but your love and submission, that's so beautiful to me. Beautiful and incredibly sexy."
"Mistress, I love that too. You know that! It's just that sometimes–"
Fetu said, "Enough!"
Lucy closed her mouth, instantly.
Fetu continued, "I love your self-discipline, little girl." She was an inch taller than Lucy, but she made sure Lucy was always aware of that inch. "If I tied you, I'd take that away. You'd have no choice, so you couldn't show me your obedience."
Lucy nodded. This issue wouldn't go away, though Fetu would certainly cane her the next time she raised it. For now she said, "Yes, Mistress."
"I was going to do you with my face, but I think we'll have something stronger. Stand up, girl."
"Yes, Mistress." Lucy stood. She watched Fetu the way a dog watches a human about to throw a stick.
"Fetch the cane, Lucy. You haven't earned it, not quite. But it'll do you good to know it's in reach. Put it on the bed." Lucy obeyed, her heart beating hard. There was an enormous weight, a tightening ball of need in her lower belly. She hoped she'd guessed what was to come.
Fetu said, "I want you on the bed too. Ass in the air, knees well apart. Your face, shoulders and tits touching the duvet. Arms down, holding your knees. If you let go of your knees, Lucy-girl, I'll remind you what the cane feels like."
Lucy knew that many people would think she was crazy if they could see how happy she felt at that moment. But she loved Fetu even more when she was in this mood.
Why does Fetu want Lucy to put herself in this position? What does she have in mind? And has that argument about bondtale of the tawse covers really ended? Will Lucy be happy, while keeping Fetu happy?
To find out the answers to these any many other questions, get yourself a copy of Lucy and Whetu 1: Lucy's Got a brand New Bed!
Only $3.50!