Description
Lucy and Fetu 2: A Study in Scarlet and Rope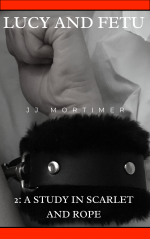 Lucy had had a bad day. But when she got home it seemed likely to get even worse.  She found her Mistress, Fetu, talking to some guy in leather pants. Hone looked like the sort of fitness freak that Fetu liked, and Lucy loathed.
But, she found, sometimes snap judgements aren't the best judgements. Hone was there to teach Fetu how to tie Lucy in the ways she'd dreamed of. By the time her Mistress had sent her to fetch the paddle Lucy realized her day was definitely looking up.
Sneak Preview!
From Lucy and Fetu: A Study in Scarlet and Rope
Hone moved forward and down and he and Fetu yowled like rutting cats when he entered her. They would come very quickly, thought Lucy. They were both so excited mostly because of her: their orgasm would in a sense be hers. She watched them plunge together, hungry and urgent, with no concern for timing or grace.
Fetu's feet lifted into the air, pointing joyously at the ceiling, then came down to rest on Hone's buttocks while they rocked together. Fetu moaned, a sound Lucy knew well, and for some reason she blushed. Then – Lucy had no idea how much later – Hone grunted and they became more vocal, yowling and shouting in lust, and Fetu froze for a second, her body an arc touching the bed only at her feet and shoulders. She screamed, and a few seconds later screamed again, then made a series of happy, high noises as she subsided.
Hone came in her as she returned to the bed, and they lay still. Fetu shifted her head out from under his shoulder, and stared intently at Lucy.
Lucy watched the two of them cuddle and laugh and kiss. Eventually, after about twenty minutes, Fetu took his cock, already showing signs of new life, in her hand and threw the condom onto the floor. She took Hone in her mouth and sucked him hard. She said, "Hone."
"Yes?"
"You said my girl is beautiful. Is she sexy?"
Hone turned onto his back, Fetu kissing his dark-olive nipple. He looked up at Lucy. "Of course she is. Very. And she definitely wants to be fucked, right now."
Lucy stared at Hone. If she didn't belong to Fetu, she could desire him. Especially now. But he wasn't Fetu. She couldn't sort out her thoughts, or her desires. Perhaps she didn't have to. It looked unlikely to be her choice.
Fetu stroked his cock. "I'm pretty sure she misses cock. Even though she loves me. You can take her, if you like."
Lucy was shocked. She'd known that was coming, but hearing it was… like falling down into a lower floor of her submission. She could feel herself dropping.
Fetu stood up. "I need to go to the bathroom now, Hone. Lucy. But she's yours for the taking, if you want her. Lucy, mind: that's up to him. Not you." She left.
There was silence between Lucy and Hone. Lucy bound by ropes and by her submission, freely given though it was; Hone free, and hard for her. He said, still lying on the bed, "She's right, it is up to me. But I don't want to fuck you if you're not keen." Then he smiled. "Though I know that whatever you say, if I took you, you'd come in about thirty seconds. True, little Lucy?"
"Actually, yes, that's true, Sir."
"But if you don't want to, this is when you say, Not."
What will Lucy say? Can she resist a gentleman? Especially a gentleman who smells of her beloved Fetu? Did being bound turn out to be as hot as she'd hoped it would be? What, and who, is coming next?
For the answer to these and other questions, get your copy of Lucy and Fetu 2: A Study in Scarlet and Rope now!
Only $4.50!