I had to think about the logistics of fucking Stephanie and Maires before lunch, since they didn't seem to be interested in food. I was. Still, Stephanie and I were the last to have straight-ish sex, some time in the early hours of this morning. So it was Maires's turn. On the other hand, Stephanie was still a guest, though she was losing that status and becoming part of the family. I decided her guest status still applied. So I'd fuck her first.
Anyway, I knew that'd make Maires complain, and I felt she deserved to have to wait her turn. I'd granted her authority over Stephanie, at least when I wasn't present, so she needed to be set down a step or two. She'd still know she was doing all right. If she complained too much I'd make her join Stephanie getting the cane after dinner, and she knew that.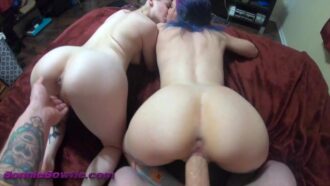 That left positions. I thought about having the both of them bend over the bed side by side, and taking them, one by one, from behind. That didn't seem to offer Maires much sensory input or participation while I fucked Stephanie, even if I stroked her.
So I rolled onto my back, nose and cock pointed at the ceiling. "Maires, you need your cunt on my mouth. And Stephanie, I think you know what to know." 
Maires kissed me. "In a moment, Master. I think you want to watch first, while Stephanie sits herself down on your cock."
I looked at her, surprised. "You're right, I do. Stephanie!"
Stephanie straddled me, cunt not quite toucing the tip of my cock. "This will be the first time I have your cock in me, as my Master."
"Yes."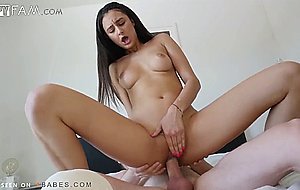 "I just like to mark these steps." Maires smacked her bottom, and Stephanie lowered herself onto me. I watched my cock disappear, gasping at the sheer enveloping pleasure of it, of her. She lowered herself very slowly, millimetre by millimetre, wet soft skin taking in my harder skin, staring into my eyes.
At last she settled herself, my cock entirely inside her, her thighs holding me. "Uh," she said happily. She stayed still for a long moment, then lifted herself and settled again. "Master?"
"Stephanie?"
 "Maires smacked me. She's not allowed to do that when we're all three together, is she?"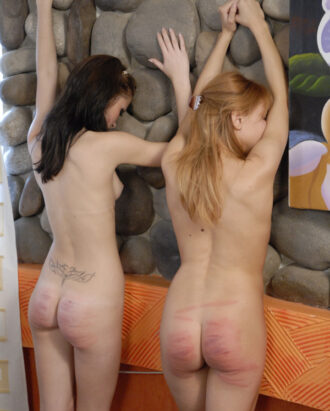 I laughed and she rode, cowgirl-like, to stay in place. Every movement of her cunt was excruciatingly pleasurable, almost too much to bear. "No, you're right. That's two girls for the cane after dinner. Maires, stop beating your sister. Unless I'm not here."
"Sister?" Maires smacked Stephanie's bottom harder, so the room rang with it. "I suppose we're sisters." She smacked Stephanie's arse again, then got up onto her knees and kissed her. "But you're going to be one sorry sister, once I get you to myself."
"You want the crop, Maires?" She'd long ago lost all fear of the cane, but the riding crop still gave her pause. 
"No, Master. Please not. I'm sorry."
"Then get up here, and get your cunt licked. Stephanie needs something to hang on to, anyway."
"Master is kind." I can pack a lot of disdain into four syllables, but Maires is better.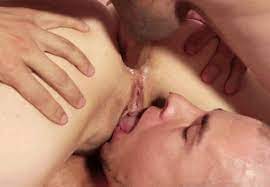 I had things to say, but Maires lowered herself on all fours, thighs straddling my neck and shoulders, cunt pushed wetly against my mouth. She put her hands on the sheet, over my head. I'd been about to tell her she was a tissue's width away from getting the crop instead of the cane after dinner. But I knew she knew that.
I pushed my tongue and nose against her, and devoted myself to making her stomach muscles tighten and her breath harsh, while Stephanie rode me. 
Time passed,while Stephanie fucked me, making full, wiggling use of her fulcrum, and I pleasured Maires. I could feel my own orgasm slowly gathering itself, not yet urgent. I wondered how Stephanie was.
More time passed, and at last I smacked Maires twice, as hard as I could, which made her close her eyes and lift her face to the ceiling, exposing her throat. I smacked her again, then pushed her back so she sat on my chest. She made a querulous sound.
"Sorry, love. I want to watch Stephanie come."
Maires paused for a second, her expression changing from mock-aggrieved to conspiratorial. She slid off me, then leaned down and kissed Stephanie's thigh. She lay down, arms holding my face and chest, her body pressed against both of us.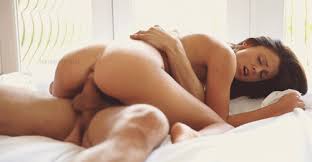 Stephanie's eyes were still closed. What was important was moving inside her, in at least two senses, and I wasn't sure she'd even noticed Maires's departure. She made a little vocal sound as she rode me, like a gargle, then suppressed it.
She worked harder on me, sometimes swinging her hips sideways while working back and forth. Her breathing was louder and rhythmical, like a very small steamtrain. 
I reached up and held her breasts, then clamped her nipples between my thumbs and forefingers. That had worked well before, but this time the effect was extraordinary. She opened her eyes wide and screamed, "Yab! Arb! Oaawwb!"
She fell forward onto me. I held her ass tight and hard. We pumped together, Stephanie still making strange noises that always ended in "b", and at last I added my own bear noises. She bit me when she came. I hadn't expected that. Then I came in her, while the world seemed to swirl in red and black for those orgasmic moments, before I couldf again see Stephanie's golden hair, dishevelled and mine. 
We lay still, Stephanie's weight on me. Maires raised herself and kissed Stephanie's face, then mine. "You two. You two. You're rather lovely, together."